Free Horse Racing Tips
Racing Bet of the Day
Our daily racing tip will be with you shortly.
Horse Racing Bookmaker Odds
Maximising your horse racing bookmaker odds is almost as important as picking the winner.
We scour all our trusted bookies to deliver not only winning betting tips but also the best possible dividend on your investment.
Horse Racing Fixtures
Knowing when the important horse racing fixtures are is vital so you don't miss the biggest events in Australia and abroad.
Everyone knows the world renown carinvals like
Melbourne's spring
and Sydney's Autumn Racing Carnival, but even the biggest events like the three $1 million features in Perth can fly under the radar if you don't know the dates.
Check out our
Group One races
page for our full list of the pinnacle of thoroughbred racing in Australia.
Horse Racing Results
For the big horse racing results your best option is to look at our individual pages.
Not only do we display the placing results of the most recent run of the event we also go back into history and show the last 18-19 winners dating back to 2000.
Horse Racing Betting Options
There are a number of different horse racing betting options for those looking to wager on the gallops.
Below is a glossary of the major betting types and a description of what they mean.
Win - If your horse finshes across the line in front you get your cash
Place - If your horse finishes first, second or third you'll get a return on your bet
Exacta - Pick two horses in one race, if they finish first and second in the order you selected your bet is a winner
Quinella - Same as an exacta bet but the order doesn't matter.
Trifecta - Picking three horses in a race to finish in the place positions. You can elect to "box" your trifecta for a diminished return which means they can finish in any order, or you can select the exact finishing positions.
First Four - Same as a trifecta except you select the first four runners and their positions. Like a trifecta bet you can elect to box it
Quaddrella - Commonly known as a "quaddie" a quaddrella bet is selecting one or more runners to win across the last four races of a card. The more runners you select per race, the less your return will be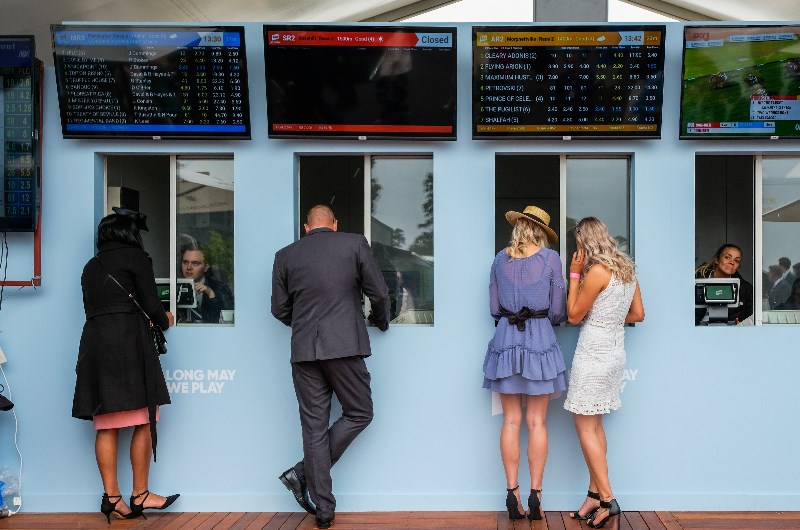 Horse Racing Live Streaming
Watching events on the go is just the way it is in this day and again and horse racing live streaming is the method of consumption in modern times.
To get all the information on how you can watch horse racing events visit our
horse racing live streaming
page which also contains a FAQ section so you aren't in the dark about anything live stream related.
Live Stream Australian Horse Racing
In the 21st century everyone is on the go at all times and punters around the country all want to know: how do I live stream Australian horse racing?
The advent of live streaming has meant anyone and everyone can watch movies and TV on the go and Australian horse racing is no different. Punters previously listened to the gallops on the radio but these days if you can watch it that is the preferred option.
But where in Australia can you live stream Australian horse racing?
To watch racing in every state and territory, the only online bookmaker that provides live streaming is
BetEasy
.
Forging a partnership Sky Racing, BetEasy now streams all Australian thoroughbred, greyhound and harness races. They also have New Zealand thoroughbred racing hooked up to the live stream as well and select overseas meets.
Watching the live stream at BetEasy is as simple as signing up here, making an account and launching the live stream.
Punters betting on the go can always use the BetEasy App to watch the best racing from all around Australia and New Zealand.
Australian Horse Racing FAQ
What capital cities host horse racing in Australia?
Every capital city in Australia has a prominent race track with the major centres having at least two big name courses. Melbourne and Sydney are the horse racing hubs of Australia with the main carnivals being conducted in these cities.
What are the main horse racing carnivals in Australia?
The biggest horse racing carnivals in Australia are the Melbourne Spring Carnival and the Sydney Autumn Carnival. Both feature a festival within the carnival, with Melbourne hosting the Melbourne Cup Carnival while Sydney has The Championships.

How do I live stream Australian horse racing?
To access all the information on how to live stream Australian horse racing you need to visit our live streaming hub.
Can I live stream horse racing on my mobile?
Yes you can.

All the information you need on live streaming can be found at live streaming page where you can find all the latest news and updates on horse racing and all the other major sports codes from around the world.
Where to watch horse racing replays?
Most horse racing replays on the big events can be found on YouTube.