Australian Duck League Highlights and ADL Live Coverage
Latest coverage from the Australian Duck League, sponsored by Sportsbet
ADL, brought to you by Sportsbet!
In the absence of AFL footy,
Sportsbet
have teamed up with the Australian Duck League to bring us some seriously exciting coverage of the ADL.
Featuring 18 teams - Mallardaide, Brisbeak, The Bills, Collingwings, Essendonalds, Duckers, Cold Roast, Duck-lings, GWD, Squawks, Red & The Bill, Quackeroos, Port Waddleaide, Yellow & Quack, Saint Billda, Plugga Duck, Best Roast and Bullducks, each round in the ADL season is played at Ducklands Stadium!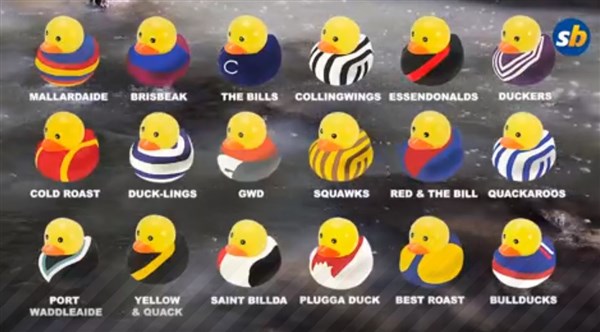 It may only be a bit of fun, but every footy fan wants to see their ADL team come out on top. And Facebook live is the place to watch each round of the AFL season.
If not, we've got the coverage below including the latest ADL odds from
Sportsbet
- with commentary from Jacob Bevis, the host and star of The Bev Show.
Rounds 6 & 7
It was all about the Cold Roast's with two wins.
Rounds 4 & 5
Saint Billda move clear at the top of the ladder from Round 5 winners Plugga Duck.
Round 3
The Bills produce a Winx like performance for a sensational win.
Round 2
Watch the early season coverage right here! Plugga Ducks gets up late to deny Port Waddleaide.
Round 1
Sorry to disappoint, but there's no coverage!
Australian Duck League FAQs
What is the Australian Duck League?
It is a league in which rubber ducks run down the river in a race. The Australian Duck League runs regular events and is behind the ADL.
Why are Sportsbet involved in the ADL?
Sportsbet got involved as sponsors during the absence of AFL footy. The 18 teams have been rebranded as new names and compete in the ADL.
Can I bet on the Australian Duck League?
Sportsbet have odds in the broadcast, but there are no live markets which you can bet on.
Who is the commentator on the ADL broadcasts?
The duck league commentary is done by Jacob Bevis, the host and star of The Bev Show.