AFL Betting Tips, Odds & Previews
Free AFL Betting Tips & Expert Predictions
Bets.com.au provides free AFL betting tips each week that identify the best bets from every game of footy. If you want regular winning AFL bets, AFL multibet tips and our AFL same game multi selections, this is the place to do your punting.

With nine games over a weekend of footy action, there is a substantial opportunity to find real value in the many, many markets available in each and every game.
Bets.com.au is the place to find expert AFL previews and analysis on each game and the AFL best bets to be backing.
AFL Betting Odds and 2022 Premiership Odds
| Team | Odds |
| --- | --- |
| Melbourne Demons | $4.50 |
| Western Bulldogs | $7.00 |
| Brisbane Lions | $8.00 |
| Port Adelaide | $9.00 |
| Geelong Cats | $11 |
| Richmond Tigers | $12 |
| Sydney Swans | $13 |
| GWS Giants | $15 |
| Essendon Bombers | $17 |
| St Kilda | $21 |
| Carlton | $29 |
| Fremantle Dockers | $34 |
| West Coast Eagles | $41 |
| Collingwood | $51 |
| Hawthorn | $67 |
| Adelaide Crows | $81 |
| North Melbourne | $101 |
| Gold Coast Suns | $101 |
Odds provided by
Ladbrokes
and are correct on 14/03/2022.
AFL Betting Promotions and Best Bookmakers
During the AFL footy season our recommended online bookmakers offer weekly promotions - both for specific games every week and ongoing deals throughout the season.
Each bookmaker has promotions you can use to take advantage of during the year and we strongly recommend punters make the most of these specials — which can often mean the difference between winning and losing bets, as well as increasing your pay-outs.
Make sure you're tuned in to weekly AFL promotions specials, given the top Australian bookmakers will also identify in-form players or the biggest games from each week and frame special markets in addition to the almost 200 typically available.
AFL Multibet Tips
AFL punters can pool multiple results together over the course of the weekend to drastically improve their odds.
AFL multi betting works much the same way it does in any other sport. Almost all online betting sites in Australia will allow you to accumulate different results in a betting slip. Those odds multiply together to drastically improve the pay-out.
Here is an example of how an AFL multi can work:


Collingwood to beat Sydney @ $1.35
Carlton to beat St Kilda @ $2
Hawthorn to beat Gold Coast @ $1.20
Essendon to beat Richmond @ $1.80
Combined multi total = $5.83
While multi betting is increasingly popular, there are rules and warnings that punters should be aware of.
While multi betting is an easy and sometimes fun way to increase your odds and have a stake in multiple games for minimum outlay, punters must be remember that there are upsets in the AFL each week and the more short odds chances they throw in to one bet, the more chance they make of one of those legs letting them down. It is advisable to keep your multis down to three or four legs, but if you're searching for big odds and think you can tip more winners, most bookmakers will let you add up to 10 separate legs to one bet.
AFL Same Game Multi Tips
Almost all AFL betting sites will now allow you to place conflicting results inside the same multi bet. So, for example, if you have two separate legs in a multi from the same game, like a player goals total into the final result, the multi will be voided. A multi leg cannot influence another result inside that multi.

There is however, exceptions to this same-game multi rule — the same game multi which you can read about below.
Here is an example of how an AFL same-game multi could work:

Collingwood to beat Sydney @ $1.35
Scott Pendlebury to get most disposals @ $4
Jaidyn Stephenson to kick most goals @ $9
Collingwood first team to 21 points @ $1.55
Combined same-game multi total = $69.90
Same-game multis often have drastically-improved odds, given the nature of exotic player odds within a game, but can provide punters with real value, given certain player exotic markets, if successful, would certainly improve the chances of a team's overall result. It is by no means an exact science, but it is an interesting market for punters to indulge in.
AFL 2022 Fixtures
The 23-round AFL home and away season fixture is one of the great quirks of the sport and a source for constant debate.
The source of conjecture for the AFL fixture is the simple fact that the math does not quite work.
The 18 teams playing over 23 weeks means that some clubs will meet twice during the year and others only once.
The quirk dates all the way back to the days of the Victorian Football League, before it morphed into the Australian Football League, when 12 teams played each other twice over a 24-week season.
When the league expanded throughout Australia to adopt new teams, the length of the season remained for TV broadcasting rights reasons and now at 18 teams we are left with a fixture that many deem unfair.
The AFL attempts to cover this by scheduling repeat matches based on where clubs finished in the season before. So strong sides don't beat up on weaker teams and get an advantage in the standings.
The AFL season typically starts in the last weekend of March and while the traditional date of the Grand Final is the last Saturday in September, the league's great finale has been played in the first weekend of October a number of times over the last decade due to other fixturing quirks.
Games are fixtured from Thursday evening to Sunday evening over the course of a season, but blockbuster games on public holidays mean matches can also be played mid-week.
After a 23-week home and away season, there is a one-week break before the top eight teams compete over a four-week finals series that culminates in the AFL Grand Final, held at the MCG.

AFL Betting Options
The number of betting options available to AFL punters within a game can be mind-boggling to begin with, so let's break down the most popular markets:

Win bet: this is as simple as it sounds and just requires you picking the correct winning team
Line bet: line or 'spread' betting requires punters to select the correct team after a points handicap has been issued by a bookmaker. For example, if Hawthorn is given +15.5 line against Sydney, which has a -15.5 line, it means that the bookmakers believe that Hawthorn is 15.5 points behind Sydney in betting. If Hawthorn loses by 15 points, they will COVER the line, but if they lose by 16 points, Sydney have covered the 15.5 handicap given to their opponents. The line bet is a popular bookmaker tool to even out the betting and put each team on an even keel before a match starts.
Margin bet: In addition to the line bet, bookmakers will also offer punters a number of options to choose from when it comes to the winning team and winning margin. An example of a winning margin is to wager on a team to win within 1-39 points. The odds for this margin may be slightly above a simple win bet, offering punters more value if they believe it will be a low-scoring game.
First goal: This market is exactly as advertised. If you can correctly select the first player to score a goal in a game, you'll win. Odds for forwards are much shorter than midfielders, ruckmen and defenders. The first goal-scorer is an extremely-popular market for the AFL Grand Final.
Most goals: If you can select which player will kick the most goals in a game, you'll take home the biscuits here. Obviously forwards are installed with the shortest odds in this market, but value can be had for goal-kicking midfielders and even defenders who swing forward. If two or more players tie for the most goals, the odds for the most goals player you initially bet on will be halved.
Most disposals: The most disposals market is typically fought out between 12-14 players on the field, split between the 'strong' Group A and the weaker Group B contestants. Punters must select the player from Group A or B that eclipses the other players in the group in terms of disposals to win the bet.

Medal winner: A spattering of games throughout the season will award a 'best on ground' medal, voted on by key media and former AFL personnel watching the game. Punters are able to bet on these individual medals, which often go to midfielders, who get more of the ball and can have a greater effect on games. Because punters have to choose from 44 players that take the field in an AFL game, the odds for these medals can be lucrative.
AFL Futures and Medal Betting Odds
The AFL's big individual medals and awards are an incredibly-popular side show for punters who can find tremendous value and big odds in big, open fields.
Such is the popularity of these medals, futures markets for the next year can often open minutes after a new winner has been crowned.
AFL medal winners are a big part of the folklore and history of the sport and if there's one thing punters love, it's getting in early and picking the winners.
AFL Premiership: You can bet on who will win the AFL premiership all year round with odds available from the minute the Grand Final ends.
Brownlow Medal: The Brownlow Medal is a betting phenomenon in Australia and the biggest individual award a player can win during the home and away AFL season. The Brownlow is judged by the AFL umpires, which will identify the best three players in every game in a 3-2-1 voting system. At the end of the season, the votes for each and every game are counted and the Brownlow Medal is awarded to the player with the most votes. Players who receive a suspension throughout the season can be deemed ineligible to win.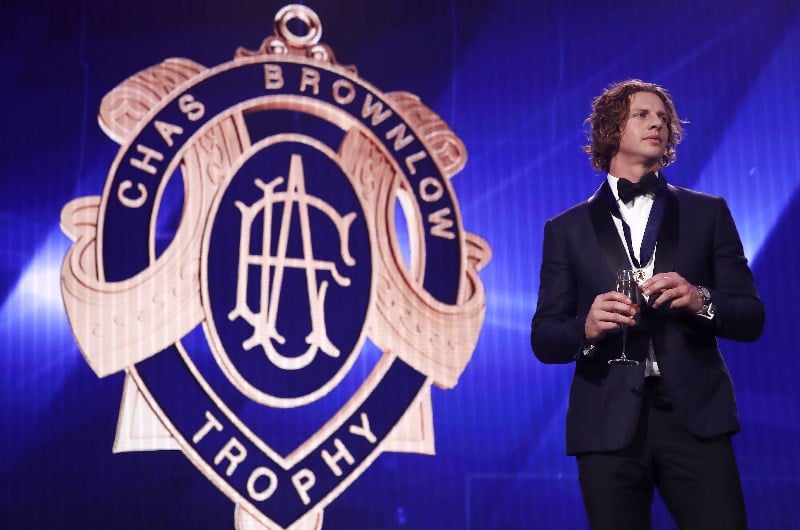 Norm Smith Medal: The Norm Smith Medal rewards the player that stood above the rest and performed on the biggest stage in the game – the AFL Grand Final. The Norm Smith goes to the best on ground in the finale and is voted on by a select group of media and ex-AFL players and champions.
Punters will choose from 44 players who take the field.

Coleman Medal: The Coleman Medal is awarded to the player who kicks the most goals during the AFL home and away season. The Coleman was once a more popular market that was fiercely battled upon by players who could notch more than 100 goals in a season, but the modern game, the unselfish nature of modern players and the advantage of unpredictable forward lines has made the Coleman harder to predict for punters.

AFL Rising Star: The AFL Rising Star awards the best young player in the game. To be eligible for the award a player must be under the age of 21 and played less than 10 games before the start of the season.
AFL Replays
While full match replays will require online subscriptions at AFL.com.au or with Foxtel and Kayo, fans will find free highlights packages of individual matches by visiting their team websites and the AFL website, which will upload free vision immediately after the game is finished.
AFL Live Streaming
AFL fans that are relying on their smart phones or devices to watch their team or bets get the win over the weekend do have a number of live streaming options.
If you're willing to pay for a subscription, both Foxtel and Kayo provide smartphone apps and offer live streaming of every game of the season. Customers at Telstra will get a complementary subscription to the AFL live streaming package via the AFL.com.au app.
Broadcast rights mean no bookmakers can officially offer live streaming via their app.
AFL Results
Those looking to get AFL results will get the latest news, views and opinions right here.
Check back here following a weekend of footy for a complete view of everything that happened throughout the round.
AFL History
The Australian Football League (AFL) is the county's major football code of the winter months.
AFL is the most-watched sport in Australia and provides an incredible gambling product for its legions of passionate fans and punters.
Taking place from March to the last weekend in September each year, the AFL features 18 teams spread across five states, battling for the Premiership Cup.
Recent AFL Premiers
| Year | Winners |
| --- | --- |
| 2021 | Melbourne Demons |
| 2020 | Richmond Tigers |
| 2019 | Richmond Tigers |
| 2018 | West Coast Eagles |
| 2017 | Richmond Tigers |
| 2016 | Western Bulldogs |
| 2015 | Hawthorn |
| 2014 | Hawthorn |
| 2013 | Hawthorn |
| 2012 | Sydney Swans |
| 2011 | Geelong Cats |
| 2010 | Collingwood |
| 2009 | Geelong Cats |
| 2008 | Hawthorn |
| 2007 | Geelong Cats |
| 2006 | West Coast Eagles |
| 2005 | Sydney Swans |
| 2004 | Port Adelaide |
| 2003 | Brisbane Lions |
| 2002 | Brisbane Lions |
| 2001 | Brisbane Lions |
| 2000 | Essendon Bombers |
AFL FAQ
When does the 2022 AFL season start?
The 2022 AFL season will begin with Melbourne Demons vs Western Bulldogs. The match is scheduled on Wednesday, March 16.
When is the 2022 AFL Grand Final?
The AFL Grand Final will take place at the MCG on Saturday, September 24.
How to live stream the AFL?
For all the information on how to live stream the AFL visit our live streaming hub.

Our team has detailed how you can live stream not only the AFL but all the popular sporting events from Australia and aboard.
Who has won the most AFL premierships?
Essendon and Carlton are tied for the most AFL premierships in history with 16 each. Collingwood has 15 while Hawthorn (13) and Richmond (13) are next on the flags tally.