Brownlow Medal 2022 Betting News & Betting Guide
Brownlow Medal 2022 Betting Tips
Few individual awards capture the imagination of the AFL public like the Brownlow Medal.
Officially known as the Chas Brownlow trophy, the accolade is awarded to the game's 'best and fairest' player, voted on by the umpires who hand out votes in a 3-2-1 system at the end of each game of the home and away season.
The Brownlow has become a betting phenomenon right around Australia.
Punters have been able to feast on the unpredictable nature of the count and the AFL's 'night of nights' has turned into one of its biggest futures markets, given the huge field and big odds on offer.
The Brownlow is held on the Monday night before the AFL Grand Final each year and has long been a source of debate and controversy.
In our Brownlow Medal betting guide we'll take you through the history of the award, the trends to look out for when trying to find a winner and what promotions and specials to look out for from
our recommended bookmakers
.
Brownlow Medal Bookmaker Promotions
Every single bookmaker in Australia offering a sports betting service should have comprehensive markets on the Brownlow Medal — the challenge is finding the best odds and specials to maximise your betting dollar.
The Brownlow provides a great example of why it pays to have multiple betting accounts with different bookmakers. If you have outlined the player you want to bet on, you're best served to look around and make sure you're getting the best odds. Sometimes the differential can be as much as $10 in early markets, so for some punters, it could mean hundreds of dollars gone begging.
As far as promotions go, you're going to be well-served by our recommended bookmakers. In addition to a wide variety of exotic markets that grows wider every year, bookmakers will often offer early pay-outs, boosted odds on favourites and Sportsbet has even be known to do 'justice pay-outs', which could come in handy if a player is seemingly robbed.
Popular Brownlow Medal Markets
Betting on the Brownlow Medal can be as simple or complex as you desire, with a wide range of options available to both the casual and die-hard punter.
A simple winner's market is where most casual punters will outlay their hard-earned, while those that have watched the markets a little closer can find real value in team markets, individual lines and other exotics.
Let's take a look at the different types of Brownlow markets you can choose from:
Winner betting: If you can correctly pick the outright winner of the Brownlow Medal, you'll win this bet. The earlier you get on before the completion of the season, the better your odds will be, given you are risking a loss of form, injury and other factors that can derail a Brownlow Medal season.
Note: In the event of a tie, bookmakers have different terms and conditions as far as paying out your winnings goes. Some may pay out in full while others can half your winnings. Make sure you don't get surprised in this event.
Place betting: Bookmakers will often run place markets in conjunction with their winner markets. You should be able to get odds on top 3, top 5 and even top 10 markets in the count. The odds will reduce, but it's a handy way to get some insurance if your win bet falls agonisingly short.
Most team votes: A popular market with savvy punters, the most team votes market allows you to identify which player will poll the most votes at any given club. This is a popular bet to throw in multis across different clubs and often fans will back their knowledge of their team and be able to identify who polls well.
Winner at half-way: Bookmakers will offer a market for the leader of the Brownlow count at the end of Round 12 — giving punters a chance to cash in early in the count. This can be a good option for punters who want to punt on a player who was injured in the second half of the season, but played well early.
Without the favourite betting: There are seasons where the Brownlow Medal is a fait accompli with a certain player well above the rest in betting. Think Dustin Martin, Gary Ablett Jr and Chris Judd. In this seasons bookmakers often create markets without that player, cutting odds a little short for the other contenders, but creating more competition for punters to find the winner.
Brownlow Medal Odds
Like we've stipulated at length, it pays to compare odds at multiple bookmakers to ensure you're getting the best deal.
The Brownlow Medal odds are usually set by the bookmaker in conjunction with the AFL and their data researchers to ensure the market is never truly off kilter.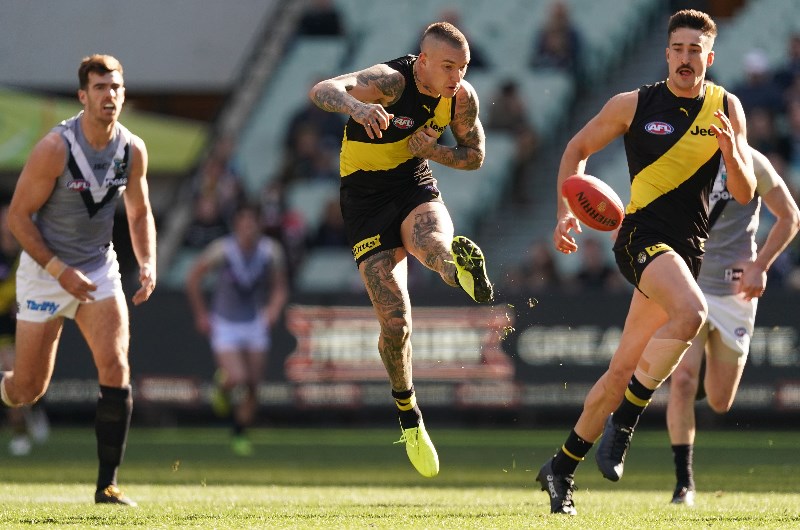 How To Bet On The Brownlow
While the results of the Brownlow Medal can be predictable, there are certain trends for punters to follow and factor into their betting.
Any player can win, but it's a midfielder's night
While we've seen forwards, ruckman and even a couple of defenders win Brownlow Medals in the past, the award is typically the domain of midfielders — the players underneath the nose of umpires throughout the game.
Whether we like it or not, a 30-disposal game is often more highly-rated than a 3-goal feat from a forward, a 40-hit-out performance from a ruckman or a great lock-down job from a defender.
Midfielders always have more of an opportunity to have an impact on a game, given they are around the ball more often, but football fans have long lamented the fact that the game's greatest individual honour ignores more than half of the players on the field.
While there are a few ruckman in the modern game who — namely Max Gawn and Brodie Grundy — who could buck this trend with their incredible all-round play, you'll do well to remember the Brownlow's golden rule.
You can poll votes when your team loses, but Brownlow Medals are typically won by winners
When the umpires go back into their locker room after a game, more often than not they give the best-on-ground and 3 votes to a player from the winning team. It is just a fact that the winning team typically has the best players.
Punters need to factor this in to their betting. If your player belongs to a team that is getting pumped by 60 points every other week, there are a lot of games where he won't poll the maximum votes and be lucky to poll any votes at all.
More often than not, the Brownlow Medal winner comes from a team that is playing finals and has had ample opportunity to poll votes in a winning side.
The umpires like certain players more than others
For whatever reason, be it style, hair colour or how respectful they are, some players stand out more than others to umpires and seem to poll above expectations each year.
Make sure you're keeping an eye on players that have exceeded your expectations, because more often than not, it will happen again. Remember that the umpires are human too and if a player stands out visually more than others, because they are tall, bald, have red or blonde hair or a unique style, they could be in to poll more votes.
Brownlow Medal Multi Betting
The Brownlow Medal provides a nice opportunity to build a multi bet, given there are a number of different markets that you should be able to combine together to increase your odds.
While some bets simply won't be allowed to be combined because they can influence each other, punters enjoy combining the leading vote-winners from each club on Brownlow Medal night to build a big combined odds total.
Keep an eye on the multi specials on offer from your bookmaker in the days leading up to the event.
Brownlow Medal Previous Winners
| Winner | Year |
| --- | --- |
| 2021 | Oliver Wines |
| 2020 | Lachie Neale |
| 2019 | Nathan Fyfe |
| 2018 | Tom Mitchell |
| 2017 | Dustin Martin |
| 2016 | Patrick Dangerfield |
| 2015 | Nathan Fyfe |
| 2014 | Matt Priddis |
| 2013 | Gary Ablett Jr |
| 2012 | Sam Mitchell/Trent Cotchin |
| 2011 | Dane Swan |
| 2010 | Chris Judd |
| 2009 | Gary Ablett Jr |
| 2008 | Adam Cooney |
| 2007 | Jimmy Bartel |
| 2006 | Adam Goodes |
| 2005 | Ben Cousins |
Brownlow Medal Live Streaming
Channel 7
has the broadcast rights to the Brownlow Medal and will stream the count live via their smartphone app SevenPlus — meaning that if you're out and about, you don't have to miss the action as it happens.
Brownlow Medal FAQ
How to bet on the 2022 Brownlow Medal?
To place a bet on the Brownlow Medal you'll need to be signed up with an online bookmaker.

Bookies deliver markets on the Brownlow Medal all year round so all you need to do is create an account and you are ready to invest.
Who to bet on in the 2022 Brownlow Medal?
Midfielders are your best bet in Brownlow Medal markets.

Recent history suggests that is extremely difficult to win the award if you're not a midfielder. Western Bulldogs ruckman Scott Wynd back in 1992 is the last non-midfielder to take out the Brownlow Medal.

Check back in the build up to the Brownlow Medal for the Bets.com.au preview.
Best way to bet on the 2022 Brownlow Medal?
Is there a better way to wager on the Brownlow Medal than via your smart phone, tablet or laptop?

These days punters can sign up for an online bookmaker account and wager from the privacy of their own home.

How to live stream the 2022 Brownlow Medal?
Channel Seven holds exclusive televising rights to the medal count and it will only be available to be watched on TV or via the 7Plus app.

Where is the 2022 Brownlow Medal?
The Brownlow Medal is held every year at Crown Casino, which is located in Melbourne.

The vote count usually takes three hours which multiple awards handed out as the night progresses.