ATP Madrid Masters Tips - Stefanos Tsitsipas to shine under Madrid sun
ATP Madrid Masters predictions for this week's ATP tennis tournament
First Madrid Masters since 2019
Novak Djokovic is defending champion
Stats, preview, predictions and player news
(Getty Images)
ATP Madrid Masters Tips
The second ATP Masters Series event of the clay court season began on Sunday (May 2) and concludes in a week's time with the final on Sunday, May 9. The Madrid Masters features most of the world's top players, although current world no.1 and defending champion Novak Djokovic has chosen to sit this one out, after struggling to find his best form on clay. World no.2 and undisputed "King of Clay" Rafael Nadal will play, although ironically, this is the one European clay court event he has failed to dominate.
The man who has been Nadal's heir-apparent for the last five years, Dominic Thiem returns to action, having suffered a major loss of form and confidence for the first time in his career. World no.3 Daniil Medvedev has been the best player on hardcourts over the past three seasons, but is yet to make a similar impact on clay.
That hasn't been the case for Greek superstar Stefanos Tsitsipas; the world no.5 has made the final in both clay court tournaments he's played without the loss of a set. Tsitsipas was the winner in Monte Carlo and came runner-up to Nadal in Barcelona, but only after they'd played the best match of 2021.
Nadal top-seed in Madrid
Nadal 5-time winner in Madrid
Tsitsipas is 26-6 in 2021
Tsitsipas won Monte Carlo Masters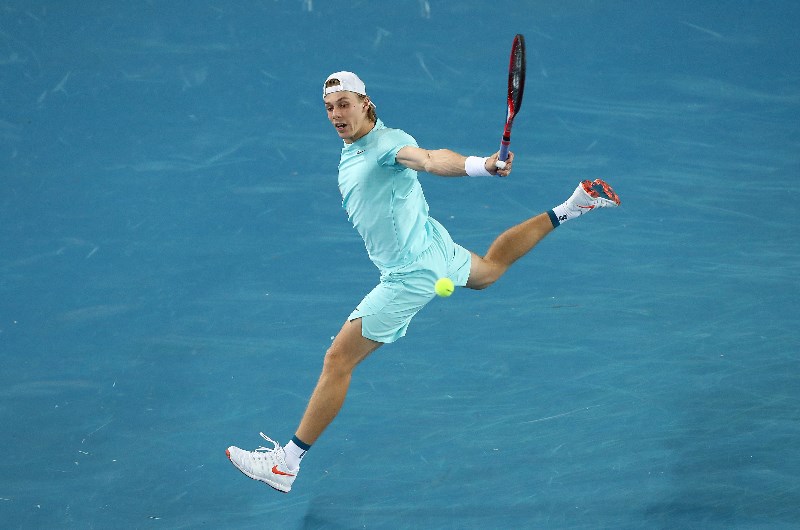 Four Players To Watch In Madrid
It's amazing to think that the relentless Rafa Nadal will turn 35 during his beloved French Open, as he goes for an incomprehensible 14th title there. To put that into some perspective, before Roger Federer eclipsed him, Pete Sampras held the record for Grand Slam wins with 14, and Rafa could now equal that with his French Opens alone.
However first Nadal will try and win in Madrid, and next week at the Rome Masters. Rafa's record in his nation's capital isn't anything like as good as it is in Barcelona, where he's been champion 12 times, including a week ago. Nadal has won the Madrid Masters 5 times, most recently in 2017. Last year he was defeated in the semis by the man he's just beaten in an epic final in Barcelona, Stefanos Tsitsipas.
Nadal could face an early exit if he plays the latest sensation in Spanish tennis, 17-year old phenom Carlos Alcaraz in his opening match. Alcaraz reached 7 finals on the challenger circuit last season, winning five, and looks a cert to be doing the same on the ATP tour very soon.
Nobody has won more tennis matches in 2021 than world no.5 Stefanos Tsitsipas. The 22-year old Greek giant is 26-6, has reached three finals – winning one - and made the semis at the Australian Open. He won his first ever Masters 1000 series title in Monte Carlo, looking sensational in doing so. In only his second tournament win on clay, Tsitsipas won one of the biggest events on that surface without dropping a set, overpowering a red-hot Andre Rublev in the final 6-3, 6-3.
Tsitsipas looked just as lethal last week in Barcelona, surging into the final without dropping a set – or his serve – before running into Rafa Nadal. The result was THE final of 2021 thus far, a 3- hour 40-minute epic that saw both men survive match points before Nadal eventually won 4-6, 7-6, 7-6. While in previous years, Dominic Thiem has been the man most likely to end Nadal's reign in Paris, right now Tsitsipas is out on his own as Rafa's no.1 threat.
Now 27, the Austrian powerhouse has been winning clay court events since 2015. Of the 17 titles Thiem has won, ten have been on clay. He's reached another seven clay-court finals, including two at Roland Garros, losing both to Nadal. Thiem's head-to-head with the King of Clay is a massively impressive 9-6 in Rafa's favour, with four of Thiem's wins coming on the red dirt.
Thiem's record in Madrid is a solid one; he's made the final in 2017 and 2018, losing to Nadal and Alexander Zverev respectively. The event wasn't held in 2020, but in 2019 Thiem defeated Roger Federer in the quarterfinals before losing to Djokovic in the semis.
At his best, Thiem wins his matches by simply overpowering his rivals with relentless heavy hitting, much in the same way Stan Wawrinka does. Like Wawrinka, Thiem has a ferocious one-handed backhand that is a weapon in itself. The Austrian won his first slam last year in New York, and admits the enormity of that achievement has thrown him off his game. Tennis fans are hoping Thiem regains his form now he's back on his favorite surface.
The 21-year old former world no.10 is a bit of a long-shot in Madrid, but the 22-year old Canadian (by way of Israel, and with Russian parents) is virtually unplayable when he hits his stride, as he showed on Sunday, crushing Dusan Lajovic 6-1, 6-3 in his Madrid opener. The good-looking, blonde-haired Shapovalov has the same kind of charisma a young Andre Agassi had when he burst onto the scene in the late 1980s, and like the teenage Agassi, Shapovalov loves nothing more than to play to the crowd.
The 6'1" Canadian enjoys hitting the ball hard and going all-out for his shots, and it is this level of bravery and commitment that saw him defeat Rafa Nadal as an 18-year old in 2017. However, it is also the reason why he loses so many matches, and he is only 8-8 in 2021. He reached a career high of tenth in the world last year, but is down to 14th right now.
However, the signs are there that under his new coach Mikhail Youzhny - himself a former top-ten player with a single-handed backhand – Shapovalov is adopting a more disciplined approach to the game. That said, tennis fans hope that the day never comes when Shapovalov gives up on his trademark "jumping backhand", hit with both feet off the ground, invariably for a winner.
ATP Madrid Masters FAQ
When is the ATP Madrid Masters taking place?
The ATP Madrid Masters takes place between 2-9 May
Where can I watch an ATP Madrid Masters live stream?
Our live streaming calendar shows you where you can watch an ATP Madrid Masters live stream
Verdict
While top-seed Rafa Nadal is the bookies favorite to win in Madrid, his record of just one win since 2014 means that is unlikely to happen. Second seeded Daniil Medvedev would seemingly have the game to win on clay, but the 6'6" Russian hasn't played since Miami and this will be his first clay court event of 2021.

The outstanding contender and my choice to win in Madrid is Stefanos Tsitsipas. Tsitsipas is 9-1 on clay this season, his only loss being to Nadal, with nobody else even taking a set off him. I'm backing Tsitsipas to have a similarly successful week in Madrid as he has in Monte Carlo and Barcelona, making a third-straight clay-court final, and lifting a second Masters 1000 Series trophy, most likely defeating Nadal in the final.