Tim Tszyu vs Michael Zerafa Tips - Zerafa to hand Tszyu first defeat
Tim Tszyu vs Michael Zerafa predictions for July 7 fight
Tszyu ranked no.1 at 154 lbs by WBO
Zerafa ranked 6th at 160 lbs by WBA
Stats, preview, predictions and fighter news
(Getty Images)
Tim Tszyu vs Michael Zerafa Tips
Unbeaten Australian star Tim Tszyu takes on his toughest opponent to date when he faces Michael Zerafa at the Newcastle Entertainment Center in Newcastle, Australia on July 7. Tszyu is ranked 4th at super welterweight by the WBC, 3rd by the IBF and no.1 contender by the WBO. Zerafa is ranked 6th at middleweight by the WBA, although this fight will take place within the 154 lb super welterweight limit.
Tim Tszyu is the son of the great Kostya Tszyu, the former Russian amateur star who chose Australia as his base when he turned professional, eventually becoming a naturalized Aussie citizen. Tszyu senior was one of the greatest light welterweights ever, and was a two-time 140 lb world champion who scored wins over ring greats like Livingston Bramble, Roger Mayweather, Zab Judah and Julio Cesar Chavez, and was carefully avoided by Floyd Mayweather during his brief time in that weight class.
Tim Tszyu has proven that he can fight, and his 2020 stoppage victory over former WBO welterweight champion and Manny Pacquiao conqueror Jeff Horn put him on the world stage. Tszyu is a smart boxer with a solid punch who is cool under pressure, and he displayed all of those qualities against the brawling style of Horn.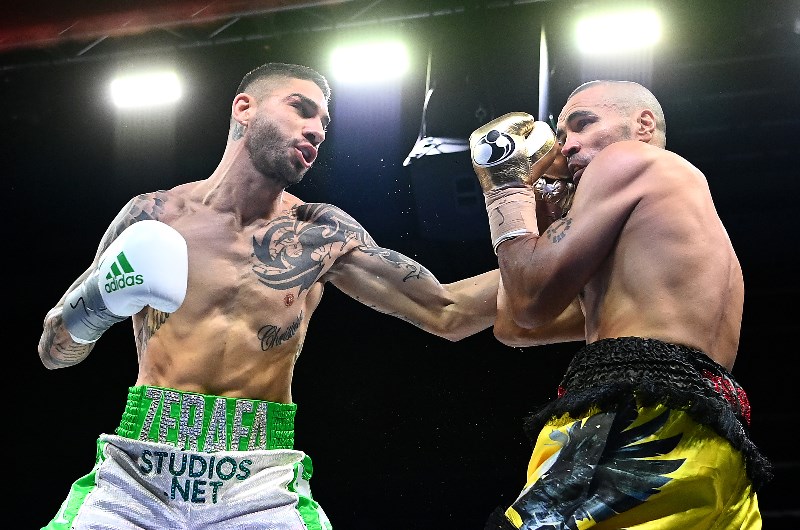 Michael Zerafa has won and lost against Jeff Horn, and last time out he destroyed what was left of Anthony Mundine in one round (pictured above). Zerafa may actually be a better all-round fighter than Tszyu, but the concern is that he is hot-headed, and even at the young age of 29, Zerafa's two wars with Horn may have had a lasting effect on him.
Nevertheless, I'm backing Michael Zerafa to pull off a massive upset and defeat Tim Tszyu on July 7. I'm predicting Zerafa will be just too big, too seasoned and too good for Tszyu, and will win a unanimous points decision.
Tszyu ranked no.1 p4p in Australia (boxrec)
18-0, 14 KO's
Zerafa ranked 3rd at 154 lbs in Australia (boxrec)
Zerafa 28-4, 17 KO's
Head to Head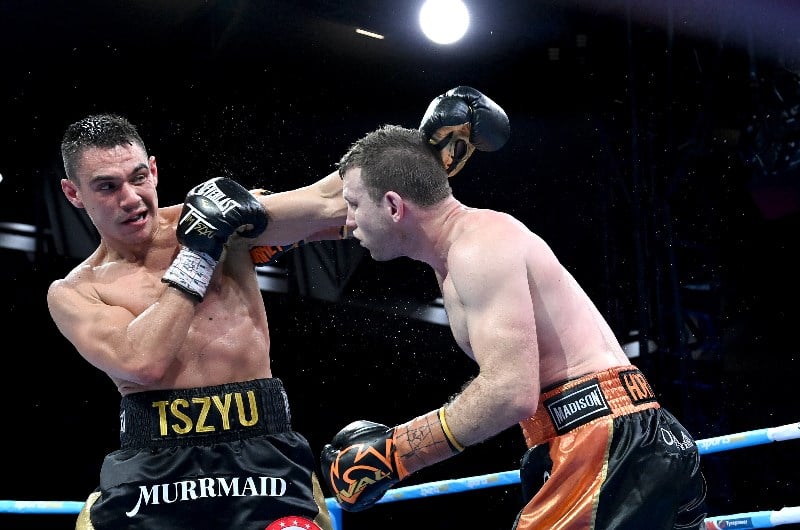 This will be the first time Tim Tszyu and Michael Zerafa have fought each other, either as pros or amateurs. They do however share two common opponents in Wade Ryan and Jeff Horn. In 2017 in his seventh pro fight, Tszyu was floored in the first round but won a close ten round decision over Ryan, who was 14-5 at that time. The following year Zerafa won a near shutout 10 round decision over Ryan in a "stay busy" fight.
Jeff Horn won a controversial split decision over Manny Pacquiao in 2017 and with it the WBO welterweight title. Horn lost his title to Terence Crawford the following year.
In 2019 Zerafa stopped Horn in nine rounds, but was floored twice and outpointed by him in a rematch 4 months later. Both fights were wars. Last year Tszyu and Horn took part in a massive promotion in front of 25,000 fans, with Tszyu winning when Horn quit on his stool after eight rounds.
Tim Tszyu Form
26-year old Tim Tszyu (18-0, 14 KO's) has had a tough act to follow in his father Kostya Tszyu who was a gold medalist in the 1991 World Championships as an amateur and a unified IBF/WBA/WBC 140 lb champ as a pro. Despite a limited 33-1 amateur career and losing four years from 18 to 22 with a chronic hand injury, Tszyu junior is an extremely well-schooled boxer-puncher who fights with the ring savvy of a veteran.
Tszyu always keeps his shape extremely well, and even under the intense brawling, mauling, roughhouse tactics employed by Jeff Horn in their fight his defense stayed tight and he was always in position to take advantage of openings with fast, hard counters. So far in his career Tszyu has handled every step up in class admirably, and while he does get tagged occasionally, his chin appears sturdy.
Tszyu is a shade under 5'9", and while he has always boxed at super welter and even middleweight, he looks like he could easily make welterweight. He will be significantly shorter and will likely be the lighter man on the night – Zerafa is 5'11" and has boxed at middleweight or heavier since 2018. Despite having to make weight at 154 lbs, Zerafa could rehydrate to 170 lbs on fight night.
Michael Zerafa Form
29-year old Michael Zerafa (28-4, 17 KO's) is in his tenth year as a pro, and despite some hard fights and four defeats he looks and fights like a much younger man. That is only partially a compliment; instead of fighting like the seasoned veteran he clearly is, Zerafa is still likely to throw caution to the wind and go for broke in about, an attitude that cost him dearly in his rematch with Jeff Horn.
After stopping Horn in nine rounds in 2019, the two fought a rematch four months later, and in the ninth Zerafa had Horn in big trouble and went all out for the stoppage. Instead, he got caught and floored twice and was almost KO'd himself. Zerafa survived, but Horn won a majority decision.
Despite his hot-headedness, Zerafa is very talented, and can box beautifully until the urge to go for the knockout gets the better of him. Had he been better managed and not thrown in with the likes of Arif Magomedov (L PTS 10) and Peter Quillin (L KO 5) early in his career, he might have been a world champion by now.
Tim Tszyu vs Michael Zerafa FAQ
When is the Tim Tszyu vs Michael Zerafa fight taking place?
Tim Tszyu vs Michael Zerafa takes place at 10:00 PM (AEDT) on Wednesday, July 7
Where is the Tim Tszyu vs Michael Zerafa fight taking place?
Tim Tszyu vs Michael Zerafa takes place at the Newcastle Entertainment Center in Newcastle, Australia
Verdict
Despite the fact that Tim Tszyu is a clear favorite, this is in reality a "pick 'em" fight which Michael Zerafa can definitely win. He will likely be the significantly bigger man on the night, he is far more experienced, and also has the edge in skill and power.

In fact, the main reason why Tszyu is the clear bookies favorite would seem to be his unbeaten status as opposed to Zerafa's four defeats.

However I'm backing Michael Zerafa to stay disciplined and focused in the biggest fight of his career, and to win an upset, unanimous points decision over Tim Tszyu on July 7.
Referral Code BESTBETS
Great odds on Australian racing
Our bet365.com.au referral code is BESTBETS. bet365 does not offer bonus codes in Australia and this referral code does not grant access to offers but can be used during registration. 18+ only. T&Cs apply. Stay in Control. Gamble Responsibly. Call Gambler's Help; National Gambling Helpline: 1800 858 858 or visit www.gamblinghelponline.org.au 18+
Bet at bet365 Australia
Referral Code BESTBETS
Great odds on Australian racing
Our bet365.com.au referral code is BESTBETS. bet365 does not offer bonus codes in Australia and this referral code does not grant access to offers but can be used during registration. 18+ only. T&Cs apply. Stay in Control. Gamble Responsibly. Call Gambler's Help; National Gambling Helpline: 1800 858 858 or visit www.gamblinghelponline.org.au 18+
Bet at bet365 Australia
Referral Code BESTBETS
Great odds on Australian racing
Our bet365.com.au referral code is BESTBETS. bet365 does not offer bonus codes in Australia and this referral code does not grant access to offers but can be used during registration. 18+ only. T&Cs apply. Stay in Control. Gamble Responsibly. Call Gambler's Help; National Gambling Helpline: 1800 858 858 or visit www.gamblinghelponline.org.au 18+
Bet at bet365 Australia