How To Bet On The Weather - Find out how you can punt on the daily weather betting markets
Find out how you can bet on the weather
Weather betting is one of the most popular novelty markets (Getty Images)
How To Bet On The Weather
Daily weather betting is one of the novelty bets that punters have rallied around with the global downturn in sport and racing worldwide.
Australians are giving temperature bands across the majority of our capital cities and it's the punter's task to identify where the they think the max will hit throughout the day or at a specific time.
Sounds easy right? Not exactly!
We've taken a look at how daily weather betting works.
How Does Daily Weather Betting Work?
Daily weather betting invariably relates to the max temperature in capital cities from around Australia.
Melbourne, Sydney, Brisbane and Adelaide are among the cities that feature with the bookies on daily weather betting, with punters tasked with either picking what the temperature will peak at, or whether or not the mercury will hit a certain threshold.


Daily Weather Betting Markets
There are a number of different betting markets for punters wanting to wager on the weather:
5 Way Betting: The bookie provides five temperature markets and it's your job to pick which degree range will be the peak.
Odd/Even Market: This bet type sees punters wagering on whether the first decimal place will be an odd or an even number a specific time during the day.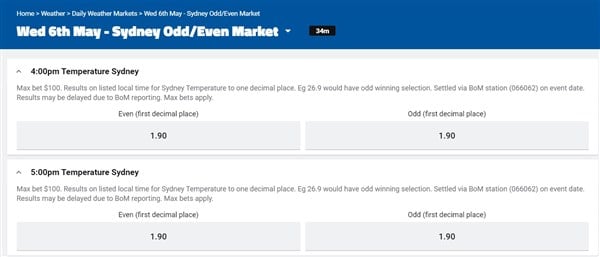 Over/Under Market: The bookie frames what they believe the max temperature will be and its the punter's job to figure out whether it will peak above or below their line.
Weather Betting FAQ
Can I bet on the weather?
Yes you can. Punters are able to wager on what temperatures capital cities will hit at a specific time during the day.
What weather betting markets can I bet on?
Punters are able to bet on the max temperatures as provided by the Bureau of Meteorology.
What do the bookies base their weather betting results on?
The Bureau of Meteorology publishes the max temperature results daily, which bookies then use to assess whether your over/under bet was correct.
What capital cities are included in weather betting?
Sydney, Melbourne, Canberra, Darwin, Brisbane, Adelaide and Perth are the capital cities punters can wager their weather bets on.
Upcoming Events
30 June 2022
01 July 2022
02 July 2022