Garbine Muguruza vs Petra Kvitova Tips - Muguruza to outgun Kvitova in three-set thriller
Garbine Muguruza vs Petra Kvitova predictions for Saturday's WTA Qatar Open final
6th career meeting Garbine Muguruza & Petra Kvitova
Petra Kvitova leads head-to-head 4-1
Stats, preview, predictions and player news
(Getty Images)
Garbine Muguruza vs Petra Kvitova Tips
Two of the most popular players and biggest names on the WTA tour will contest the Qatar Open final in Doha on Saturday March 6 when Garbine Muguruza takes on Petra Kvitova in a rematch of their thrilling 2018 final won by Kvitova in three sets.

The tall, elegant Kvitova is currently ranked 10th in the world, but has been as high as no.2. The 30-year old Kvitova has twice been a winner at Wimbledon, reached the final of the Australian Open and has twice been a semifinalist at Roland Garros. She's won 27 WTA titles, including the prestigious WTA Tour Finals.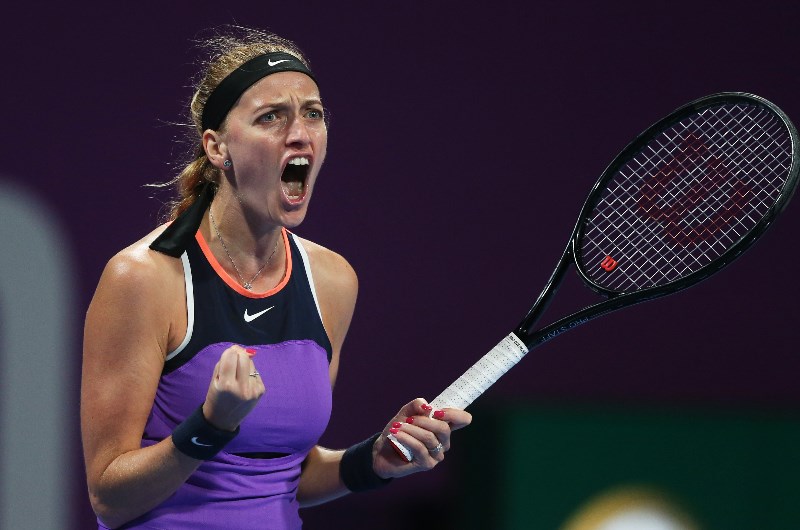 The term "dangerous floater" is used to describe an unseeded player floating around the main draw capable of upsetting even the top seeds. That's been Garbine Muguruza this week.
The Venezuelan born Spaniard has it all – she's tall and powerful, supremely athletic, can crush the ball off either side, serves bullets, and she's never intimidated by the opposition. The 27-year old Muguruza has won two slams, but should have won many more.
After squandering recent seasons seemingly through a lack of focus, this year Muguruza looks committed to getting the most out of her tennis – finally. That's why I'm backing her to outlast Kvitova in a replay of their classic 2018 final, this time with the Spanish girl emerging victorious after three tough sets.
Muguruza's second final of 2021
Muguruza is a former world no.1
Kvitova's fourth Qatar Open final
Kvitova is a former world no.2
Garbine Muguruza and Petra Kvitova have played each other five times, with Kvitova leading their head-to-head 4-1. Muguruza won their very first match back in 2015, but Kvitova has won their last four encounters, most recently in the 2018 Qatar Open final in Doha, the Czech winning 3-6 6-3 6-4.
Garbine Muguruza Form
Historically when Garbine Muguruza hits form she will invariably lay waste to the opposition and win the tournament or come close. It's happened in Doha this week, where unseeded, she has stormed to the final for the loss of one set – to defending champion Aryna Sabalenka, the no.3 seed – whom she ousted 6-2 7-6 6-3 in the last-16.
After defeating Maria Sakkari 6-3 6-1 in the quarterfinals, Muguruza was set to play the comebacking Victoria Azarenka in the semifinals. However the former world no.1 is still getting over a serious injury, and she was forced to withdraw from the event after straining her back, handing Muguruza a free pass to the final.
Will the extra rest day benefit the Spanish girl, or will the sharpness she would have gained had she beaten Azarenka been priceless versus Kvitova? We'll soon find out.
If Muguruza is all about pure physical power tennis, the tall, Petra Kvitova is much more of a cerebral player. She may not have the sheer relentless brute force of her opponent on Saturday, but she leads their head to head because of her ability to switch tactics, slug when she has to, but mix things up with slices, spins and acute angles.
While comfortable hitting from the baseline, Kvitova also loves to serve and volley, especially on a fast court like the blue Rebound-Ace used in Doha.
Kvitova has dropped just one set on her way to the final, defeating Anett Kotaveit in the quarterfinals 6-3 3-6 6-2. In the semifinals the Czech beat the in-form American Jessica Pegula, fresh off her quarterfinal heroics at the Australian Open. Pegula had come through the qualifiers in Doha, but hadn't dropped a set in the main draw. Kvitova won 6-4 6-4 to set up a rematch of the 2018 final.
Garbine Muguruza vs Petra Kvitova FAQ
When is the Garbine Muguruza vs Petra Kvitova match taking place?
Garbine Muguruza vs Petra Kvitova takes place at 2:00 AM (AEDT) on Saturday, March 6
Where can I watch a Garbine Muguruza vs Petra Kvitova live stream?
Our live streaming calendar shows you where you can watch a Garbine Muguruza vs Petra Kvitova live stream
Verdict
Garbine Muguruza and Petra Kvitova will face each other in a rematch of the 2018 Qatar Open final in Doha, ironically also the last time these two played each other. On that occasion it was Kvitova who emerged victorious, winning in three sets.

Despite Kvitova's head-to-head superiority over Muguruza, I'm going with the Spanish girl to win this match. My reasoning is that all the signs are there that Muguruza is destined to have a very good 2021; she reached the final at the Melbourne tune-up event, only losing to Ash Barty.

She was looking ominously good at the Australian Open before running into Naomi Osaka, and she pushed the eventual champion right to the wire in their quarterfinal, even reaching match point.

Muguruza is hitting the ball consistently well right now, and that factor added to her comparative youth and overall robustness will overcome Kvitova's tactical nous. Garbine Muguruza wins the Qatar Open in three sets.
Best Bet:
Muguruza
Winner
@-175.44
at
BetMGM
- 1 Unit
Garbine Muguruza v Petra Kvitova