Roger Federer vs Richard Gasquet Live Stream & Tips - Gasquet to shock Federer at Wimbledon
Federer vs Gasquet predictions for Thursday's Wimbledon match
Federer 8 x Wimbledon champion
Gasquet twice a semifinalist
Stats, preview, predictions and player news
(Getty Images)
Roger Federer vs Richard Gasquet Live Stream & Tips
Two of the most popular players to grace Wimbledon's Centre Court in recent years come face to face when Roger Federer takes on Richard Gasquet in the second round on Thursday, July 1. Federer is a record eight-time men's singles champion, while two-time semifinalist Gasquet is best remembered for his epic five-set match with Andy Murray in 2008.

39-year-old Federer - seeded sixth at Wimbledon - had a controversial four-set win over Adrian Mannarino on Tuesday, while 35-year-old Gasquet defeated Japanese veteran Yuichi Sugit, also in four sets. In 20 previous meetings with Gasquet, Federer has a record of 18-2, and hasn't lost to the Frenchman in a decade.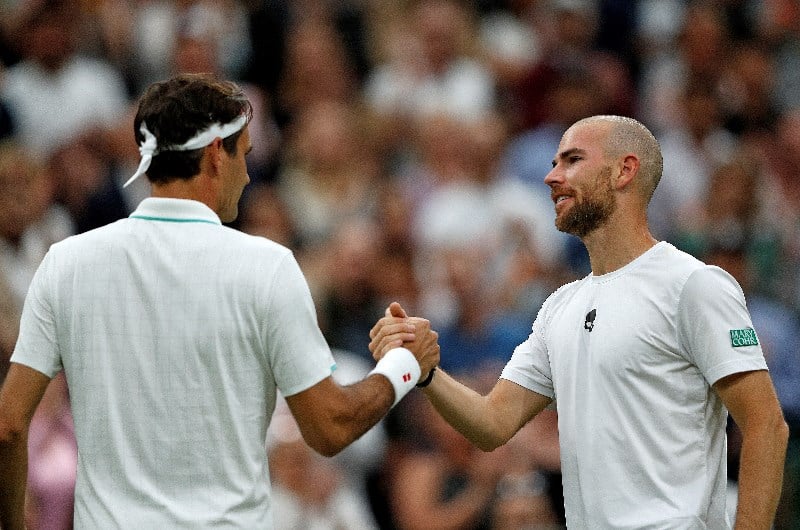 That said, Gasquet has played a lot more tennis than Federer over the past two seasons. Federer is a combined 10-4 for matches played in 2020 and 2021, whereas Gasquet has already played 20 matches this season, reaching three quarterfinals. Gasquet managed to play the same amount of games during last year's Covid hampered season, reaching the quarterfinals in the ATP events in Montpelier and Dubai, and making the semis in Sofia
While I am a huge Roger Federer fan and would like nothing more than to see him go all the way and win a ninth Wimbledon title this year, I have to back Richard Gasquet to pull off an upset and defeat the Swiss legend on Thursday, the Frenchman winning in four sets.
Federer Wimbledon finalist in 2019
Federer 5-3 in 2021
Gasquet in 3 quarterfinals in 2021
Gasquet 11-9 in 2021
Head to Head
Roger Federer and Richard Gasquet have played each other a total of 20 times on the ATP tour, with Federer leading their head-to-head 18-2. One of Gasquet's victories came in their very first encounter at the Monte Carlo Masters in 2005. A 19-year-old Gasquet defeated the world no.1 6-7, 6-2, 7-6. Gasquet would have to wait six years for his next victory, defeating Federer on clay at the 2011 Italian Open in three sets.
Federer and Gasquet have played each other three times on grass, Federer winning all three. The first was in Halle in 2006, Federer winning a close match 7-6, 6-7, 6-4, but two weeks later at Wimbledon Federer won more convincingly 6-3, 6-2, 6-2. The following year they met again at Wimbledon, this time in the semifinals with Federer emerging victorious 7-5, 6-3, 6-4.
Richard Gasquet Form
Along with Gael Monfils, Jo Wilfried Tsonga and Giles Simon, Richard Gasquet was one of a group of phenomenally talented young French players who emerged from the amateur ranks almost two decades ago. All would crack the world's top 10, and while none would win a slam, they were responsible for the most exciting era in French tennis since the days of the Four Musketeers.
At Wimbledon, Gasquet was a losing semifinalist to Roger Federer in 2007 and also to Novak Djokovic in 2015. He was twice knocked out of the tournament by Britain's Andy Murray, losing an epic five set match to Murray in 2008.
A former world no.7 but currently 56 in the ATP world rankings, Gasquet looked sharp in his four-set victory over Yuichi Sugit on Tuesday, winning 7-6, 4-6, 6-2, 6-1, and he clearly enjoyed winning a first round match at Wimbledon for the first time since reaching the last-16 in 2016.
Roger Federer Form
In all eight of Roger Federer's matches during 2021 he has at times displayed the breathtaking skill, speed and sharpness that he is so famous for, and Tuesday's match against Frenchman Adrian Mannarino was no exception. Mannarino is notorious on the ATP tour for having a style that drives his opponent's nuts; he will play half shots and softly bunt the ball around the court, then suddenly cuts loose with angled winners hit at pace.
Federer's prior head-to-head with Mannarino was 6-0, so a straightforward victory would have seemed the likely outcome. However, with Mannarino playing his oddball style to perfection, while Federer appeared to be overthinking his normally instinctive game, what resulted was a very close match indeed.
Federer won the first set 6-4 but Mannarino hit back and took the second 7-6. The Frenchman then took control of the match, winning the third set 6-3, and things weren't looking good for the crowd favorite. During the fourth set, Mannarino took a tumble that appeared to have a lasting effect on him. Federer won the set 6-2, and Mannarino – who was clearly limping quite badly – informed the umpire he was quitting. Federer had had a lucky escape, and said as much during the on-court interview afterward.
Roger Federer vs Richard Gasquet FAQ
When is the Roger Federer vs Richard Gasquet match taking place?
Roger Federer vs Richard Gasquet takes place at 12:00 AM (AEDT) on Thursday, July 1
Where can I watch a Roger Federer vs Richard Gasquet live stream?
Our live streaming calendar shows you where you can watch a Roger Federer vs Richard Gasquet live stream
Verdict
In 20 previous meetings between Roger Federer and Richard Gasquet, the Swiss icon has won 18 times, and the Frenchman hasn't beaten him for a decade. Their most recent encounter was in 2019, on clay in Madrid with Federer winning 6-2, 6-3.

Had Federer not been forced to take most of 2020 off to recover from surgery, and had he played more tennis in 2021, the chances are high that despite knocking on 40, he still would have dispatched his 35-year-old opponent with a ease.

However, the truth is Federer has played only 14 matches in two years whereas Gasquet has played 40, 20 this season. Purely because of this I have to back Richard Gasquet to defeat Roger Federer on Thursday in four sets.
Roger Federer v Richard Gasquet