Matteo Berrettini vs Hubert Hurkacz Live Stream & Tips - Berrettini to reach Wimbledon final
Berrettini vs Hurkacz predictions for Friday's Wimbledon semifinal
3rd meeting between Berrettini vs Hurkacz
Berrettini & Hurkacz tied at 1-1 in matches
Stats, preview, predictions and player news
(Getty Images)
Matteo Berrettini vs Hubert Hurkacz Live Stream & Tips
8th seed Matteo Berrettini of Italy takes on Poland's Hubert Hurkacz - seeded 14th - on Friday, July 9 for a place in the Wimbledon final. This is Berrettini's second appearance in the semifinal of a slam, having also made the last 4 at the 2019 US Open, while it's a first ever slam semifinal for Hurkacz.
Considering Berrettini had played very little grass court tennis before this year, the way that he has taken to the surface and handled the pressure of being one of the favorites has been remarkable. Three weeks ago, Berrettini made the tennis world sit up and take notice when he powered his way to the grass court title at Queen's Club. The 6'5" Italian heavyweight with the thunderous serve and sledgehammer forehand simply took that good form into Wimbledon and has continued to improve with every match.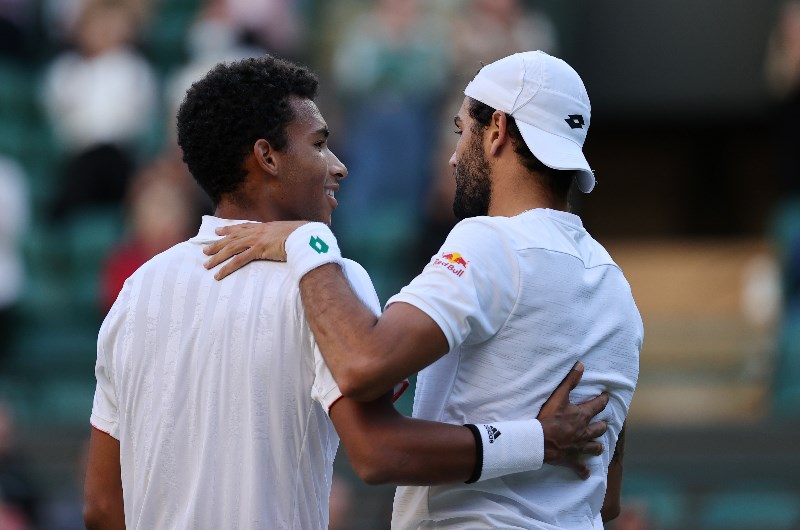 On Wednesday Berrettini overcame his toughest test of the championships when he defeated the massively talented Felix Auger Aliassime of Canada in four sets, 6-3, 5-7, 7-5, 6-3. It was an excellent victory for Berrettini, against an opponent with the size and skillset to match his own.
Speaking of size, Berrettini's semifinal opponent Hubert Hurkacz isn't exactly small. At 6'5", he is just as tall as Berrettini, although at around 190 lbs, around 20 pounds lighter than the Italian. Being lighter seems to be beneficial to the panther-like Hurkacz, who moves phenomenally well around the court for such a big guy. His opponent on Wednesday - the legendary Roger Federer - certainly had no answer to the Pole's combination of ferocious serving and tremendous baseline movement and power, with Hurkacz winning 6-3, 7-6, 6-0.
I'm backing Berrettini to defeat Hurkacz on Friday, winning this match in straight sets and reaching his first slam final.
Berrettini world no.9
Berrettini winner in Belgrade & Queens in 2021
Hurkacz world no. 18
Hurkacz winner at Delray Beach & Miami Masters in 2021
This will be the third time overall that Berrettini and Hurkacz have played each other on the ATP tour. They faced each other in the first round of the 2019 ATP Miami Masters 1000 event, with Hurkacz winning 6-4, 6-3. While that match was part of the ATP main draw, the two also met in a qualifier for the Australian Open in 2018, in which Berrettini triumphed 7-6, 6-3.
Matteo Berrettini Form
Berrettini cruised through his first four matches at Wimbledon for the loss of just one set, and was finally given a real test on Wednesday by the 16th seed Felix Auger Aliassime. At 6'4", the 20-year-old Aliassime is something of a super athlete, and his recent alliance with the great Toni Nadal is starting to show some positive results. However Berrettini has shown incredible mental toughness both at Queens and at Wimbledon, and his focus is unmatched.
There were times when it seemed that the sheer ability of Auger Aliassime threatened to take control of the match, but Berrettini would hold firm and fire down another ace, or hit another forehand winner to restore order, finally winning 6-3, 5-7, 7-5, 6-3. The Italian's game is reminiscent of two recent Wimbledon greats who both had big serves and killer forehands - Pete Sampras and Goran Ivanisevic.
Hubert Hurkacz Form
24-year old Polish no.1 Hurkacz is enjoying his best every year on the ATP tour. He began 2021 with a tournament victory at the ATP 250 event at Delray Beach, only his second on the tour. Then in March Hurkacz hit the best form of his life, defeating Denis Shapovalov, Milos Raonic, Stefanos Tsitsipas and Andrey Rublev to reach the final of the ATP Miami Masters 1000 event.
In the final he faced his good friend Jannik Sinner, with the teenage Italian phenomenon the clear favorite to win. However Hurkacz was victorious 7-6, 6-4, claiming the biggest title of his career.
In the weeks that followed his Miami victory, Hurkacz won just one match until he hit Wimbledon, and suddenly found his form again. Could he possibly replicate his Miami achievements at SW19? After the drubbing Hurkacz gave him on Wednesday, Roger Federer might think so.
Matteo Berrettini vs Hubert Hurkacz FAQ
When is the Matteo Berrettini vs Hubert Hurkacz match taking place?
Matteo Berrettini vs Hubert Hurkacz takes place at 01:00 AM (AEDT) on Friday day, July 9
Where can I watch a Matteo Berrettini vs Hubert Hurkacz live stream?
Our live streaming calendar shows you where you can watch a Matteo Berrettini vs Hubert Hurkacz live stream
Verdict
Matteo Berrettini takes on Hubert Hurkacz on Friday in the Wimbledon semifinals, the winner going through to a first ever appearance in a slam final. Both players have been in superb form throughout the championships, and on Wednesday both came through their quarterfinals in impressive fashion.

Berrettini had to quell the challenge of Next-Gen star Felix Auger Aliassime in four tough sets, whilst Hurkacz defeated eight-time champion Roger Federer in straight sets.

I'm backing Matteo Berrettini to maintain the tremendous form and focus he has shown in his previous five matches over the past two weeks at Wimbledon, and power through his semifinal against Hubert Hurkacz in straight sets.
Matteo Berrettini v Hubert Hurkacz