Matteo Berrettini vs Felix Auger Aliassime Live Stream & Tips - Berrettini to blast through to Wimbledon semis
Berrettini vs Auger Aliassime predictions for Wednesday's Wimbledon quarterfinal
Second meeting between Berrettini & Auger Aliassime
Berrettini defeated Auger Aliassime in 2019
Stats, preview, predictions and player news
(Getty Images)
Matteo Berrettini vs Felix Auger Aliassime Live Stream & Tips
Italy's Matteo Berrettini will take on Canadian Felix Auger Aliassime for a place in the Wimbledon semifinals on Wednesday, July 7. Seventh-seeded Berrettini is one of the favorites to win the men's singles trophy on Sunday after winning at Queens two weeks ago. Auger Aliassime is playing in his first ever slam quarterfinal after his five-set victory over 4th seed Alexander Zverev on Monday.
Thus far, Berrettini has dropped just one set in his four matches, and that was to Argentinean Guido Pella in the first round. On Monday Berrettini blew away Ilya Ivashka of Belarus 6-4, 6-3, 6-1, regularly hammering down 140 mph serves, and on the rare occasions Ivashka returned Berrettini's Bullets, his equally massive forehand was waiting to hit a winner.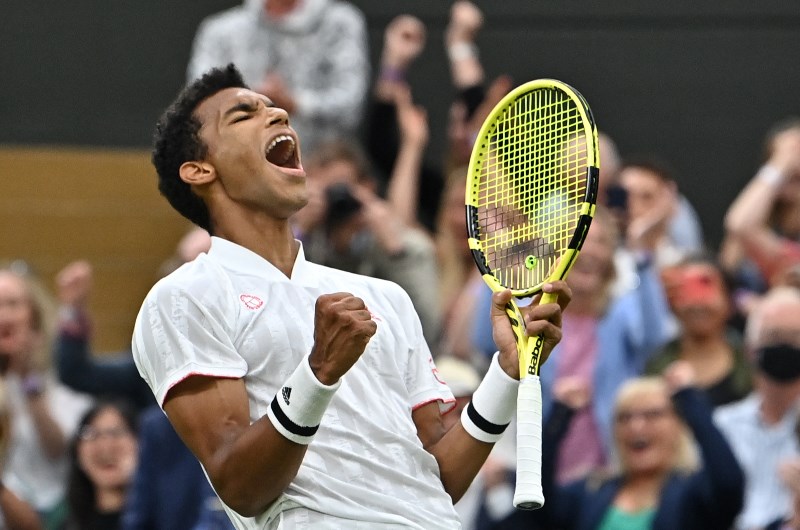 It is the sheer simplicity of Berrettini's game that has made him such a force to be reckoned with over the past couple of years. He has two main weapons, his serve and his forehand, and usually that's all he needs. In Felix Auger Aliassime, Berrettini is facing an opponent with unlimited potential. Auger Aliassime is 6'4", built like a heavyweight boxer, and has the same superb movement as Stefanos Tsitsipas. Now coached by Toni Nadal, there was something almost Rafa-esque in the way Auger Aliassime outlasted Alexander Zverev is Monday's 5-set epic.
However, I'm backing Berrettini to bring Auger Aliassime down to earth with a bang on Wednesday, blasting his way to the Wimbledon semis with a four-set victory.
Berrettini currently world no.9
Berrettini 30-6 in 2021
Auger Aliassime world no.19
Auger Aliassime 24-13 in 2021
Head to Head
Matteo Berrettini and Felix Auger Aliassime have played each other only once previously, in 2019 in Stuttgart, and surprisingly also on grass. On that occasion Berrettini was victorious 6-4, 7-6. At 6'5" and around 210 pounds, Berrettini is slightly the bigger man, although at 6'4" and 195 pounds, Auger Aliassime isn't exactly small. While Berrettini has the edge in power with his thunderous serve and a sledgehammer forehand, Auger Aliassime is the more athletic of the two and has exceptional movement for such a big guy, much like Stefanos Tsitsipas.
Matteo Berrettini Form
25-year-old Matteo Berrettini is enjoying the best season of his career thus far, and has already won two titles - Belgrade and Queens – and reached the finals of the ATP Cup and the Madrid Masters. In his first appearance at Queens, Berrettini rumbled through the field like an M1 Abrams tank, blasting all aside in straight sets and only being extended by Britain's Cam Norrie in the final.
Berrettini has played even better at Wimbledon, dropping just one set, to clay-court specialist Guido Pella in round 1. However, Berrettini has benefited from a very good draw, and Felix Auger Aliassime will be the first seed he has faced. On Monday Berrettini defeated Ilya Ivashka to reach the quarterfinals, then later that day he watched his girlfriend Ajla Tomljanovic do the same when she defeated Britain's latest darling Emma Raducanu.
Felix Auger Aliassime Form
Earlier this year, 20-year old Felix Auger Aliassime added the great Toni Nadal to his coaching staff and while it took some time for Rafa Nadal's original mentor's methods to rub off on him, recent results have shown a marked improvement in the Canadian's game and mental strength. He reached the semis on the grass courts of Halle, defeating Roger Federer and losing to eventual winner Ugo Humbert in three sets, and also reached the doubles final.
In the third round at Wimbledon Auger Aliassime went toe-to-toe with Nick Kyrgios for two thrilling sets before the Aussie withdrew injured, handing him a 2-6, 6-1 win. Then in the last-16, Auger Aliassime outlasted the 4th seed Alexander Zverev in a 5-set epic, coming through 6-4, 7-6, 3-6, 3-6, 6-4 for what he later described as the biggest win of his career.
Matteo Berrettini vs Felix Auger Aliassime FAQ
When is the Matteo Berrettini vs Felix Auger Aliassime match taking place?
Matteo Berrettini vs Felix Auger Aliassime takes place at 12:00 AM (AEDT) on Wednesday, July 7
Where can I watch a Matteo Berrettini vs Felix Auger Aliassime live stream?
Our live streaming calendar shows you where you can watch a Matteo Berrettini vs Felix Auger Aliassime live stream
Verdict
Before Wimbledon began, I backed Matteo Berrettini to win the tournament, and he's only solidified that opinion with his performances. That said, Wednesday's opponent Felix Auger Aliassime certainly has the game to cause an upset, and with his blend of size, power and skill, he looks like a future Wimbledon champion.

However, nobody has looked more dialled in at Wimbledon than Berrettini, and I'm backing him to gun down Auger Aliassime and blast his way through to the Wimbledon semifinals with a win in four sets.
Matteo Berrettini v Felix Auger Aliassime