Emma Raducanu vs Ajla Tomljanovic Live Stream & Tips - Raducanu to cruise through to Wimby quarters
Raducanu vs Tomljanovic predictions for Monday's Wimbledon match
First ever meeting between Raducanu & Tomljanovic
Raducanu last Brit in singles draw
Stats, preview, predictions and player news
(Getty Images)
Emma Raducanu vs Ajla Tomljanovic Live Stream & Tips
Britain's teenage tennis sensation Emma Raducanu will attempt to reach the Wimbledon quarterfinals when she takes on Croatian-Australian Ajla Tomljanovic on Monday, July 5. Incredibly, 18-year old Raducanu, ranked 338 in the world and competing in her first ever Wimbledon is now the last Brit singles player in the competition.
On Saturday Raducanu was outstanding in her 6-4, 7-5 win over Sorana Cirstea in the third round, playing with the composure of a veteran. Cirstea had knocked out two-time Australian Open winner and 12th seed Victoria Azarenka in the previous round, yet she had no answer for Raducanu and her blend of power, skill and youthful exuberance.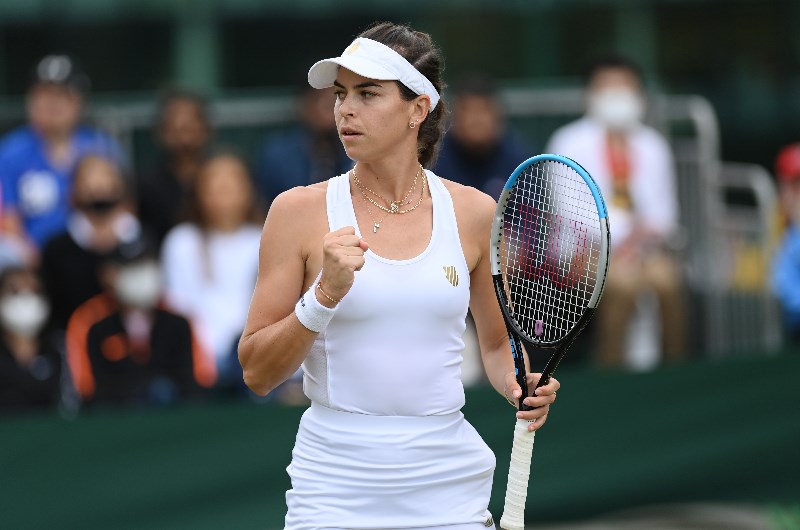 On Saturday Tomljanovic – girlfriend of Wimbledon title contender Matteo Berrettini – made headlines of her own when she and her third round opponent Jelena Ostapenko argued on court, during and after Tomljanovic's 4-6, 6-6 6-2 victory.
Ostapenko, the French Open champion in 2017 and a Wimbledon semifinalist in 2018 was clearly heard calling Tomljanovic "the worst player on the Tour" after she accused Ostapenko of faking an injury during their match. Ostapenko confronted Tomljanovic during their post match handshake, saying "your behavior is terrible, terrible. You have zero respect."
Barring further controversy, I'm backing Emma Raducanu to let her tennis do the talking and have no need to fake an injury as she defeats Ajla Tomljanovic in straight sets on Monday.
Raducanu ranked world no.338
Raducanu playing in first Wimbledon
Tomljanovic ranked world no.78
Tomljanovic defeated Ostapenko in 3rd round
Head to Head
This will be the first time that Emma Raducanu and Ajla Tomljanovic play each other on the WTA tour. Physically, 18-year-old Raducanu stands 5'9", and is athletically built. She is currently ranked 338 in the world on the WTA rankings. Regardless of how she does against Tomljanovic, Raducanu should be in or just outside of the WTA top 100 following her Wimbledon results.
Tomljanovic is 5'11" tall and at 28 the older player by 10 years. While on the thin side, Tomljanovic is far from frail, and has good movement and power. Croatian born but an Australian citizen since 2018, Tomljanovic is currently ranked 78 in the world but has been as high as 39.
Emma Raducanu Form
18-year-old Emma Raducanu was born in Canada, and her family moved to London when she was two years old. Her father is Romanian and her mother Chinese and Raducanu admits to being "fairly fluent" in Mandarin. While she was virtually unknown to the general sporting public prior to her exploits at this year's Wimbledon, many within UK tennis circles had been aware of her talent since her junior days.
This has been Raducanu's first ever Wimbledon, and while many girls of her age would be completely overawed by the occasion, she has taken to it like the proverbial "duck to water". Raducanu breezed through her first round match against Russian qualifier Vitalia Diatchenko, and then scored an excellent win over Marketa Vondrousova 6-2, 6-4. The 22-year-old Vondrousova is a former world no.14 and reached the final of the French Open in 2019.
Buoyed by such a big victory, Raducanu looked even better defeating Sorana Cirstea in the third round. 31-year-old Cirstea - a 15 year veteran of the WTA tour - must have been full of confidence herself following her three-set victory over former world no.1 Victoria Azarenka, yet she was totally outplayed by Raducanu, who dominated the match winning 6-3, 7-5.
Ajla Tomljanovic Form
Considering her obvious talent and her 12 years on the WTA tour Ajla Tomljanovic has to be considered an underachiever, with a career-best ranking of 39 and no WTA Tour titles to her name. Her talent was on display earlier this year at the Miami Open, where Tomljanovic gave world no.2 Naomi Osaka all she could handle, serving for the first set but ultimately losing 7-6, 6-4.
When on her game, Tomljanovic does everything well, with long, accurate groundstrokes and a great defense. She was too good for the mercurial but hugely talented Jelena Ostapenko on Saturday, winning 4-6, 6-4, 6-2 in a match in which there was clearly no love lost between the two protagonists.
Unfortunately Tomljanovic has been better known recently for her off court romances than for her tennis. She was previously in a relationship with Aussie "Bad Boy" Nick Kyrgios, but since 2019 has been the girlfriend of Wimbledon contender and world no.8 Matteo Berrettini.
Emma Raducanu vs Ajla Tomljanovic FAQ
When is the Emma Raducanu vs Ajla Tomljanovic match taking place?
Emma Raducanu vs Ajla Tomljanovic takes place at 03:00 AM (AEDT) on Monday, July 5
Where can I watch an Emma Raducanu vs Ajla Tomljanovic live stream?
Our live streaming calendar shows you where you can watch an Emma Raducanu vs Ajla Tomljanovic live stream
Verdict
Britain's Emma Raducanu will have to play at least as well as she did in her wins over Marketa Vondrousova and Sorana Cirstea when she takes on Ajla Tomljanovic for a place in the Wimbledon quarterfinals on Monday. Tomljanovic defeated former French Open champion Jelena Ostapenko in three sets on Saturday, and looks capable of forcing Raducanu to raise her level again in order to compete.

Just like Coco Gauff in 2019, Raducanu has been the big "human interest" story at this year's Wimbledon, and she looks fast tracked for superstardom. Not only has she already displayed excellent all-around tennis skills and a cool head way beyond her years, she has the looks of a young Angelina Jolie and will surely have blue-chip sponsors queuing up for her signature following performances at Wimbledon this year.

I'm backing Emma Raducanu to defeat Ajla Tomljanovic in two tight sets on Monday, going through to contest the Wimbledon quarterfinals.

Emma Raducanu v Ajla Tomljanovic