Denis Shapovalov vs Karen Khachanov Live Stream & Tips - Khachanov to upset Shapo and reach Wimby semis
Shapovalov vs Khachanov predictions for Wednesday's Wimbledon quarterfinal
Second meeting between Shapovalov & Khachanov
Shapovalov leads Khachanov 1-0
Stats, preview, predictions and player news
(Getty Images)
Denis Shapovalov vs Karen Khachanov Live Stream & Tips
10th seed Denis Shapovalov of Canada takes on Russia's Karen Khachanov - seeded 25th - on Wednesday, July 7 for a place in the Wimbledon semifinals. While this will be both men's second appearance in a slam quarterfinal, neither player has previously reached the semis of a major. Shapovalov was involved in the biggest match of last week when he defeated Britain's own Andy Murray in the third round.
This year's Wimbledon has seen a remarkable return to form for Khachanov, who was ranked inside the world's top 10 just two years ago, and looked headed for the very top. Still only 25, Khachanov hasn't won a tournament since 2018, the year he won three titles, most notably the ATP 1000 Paris Masters.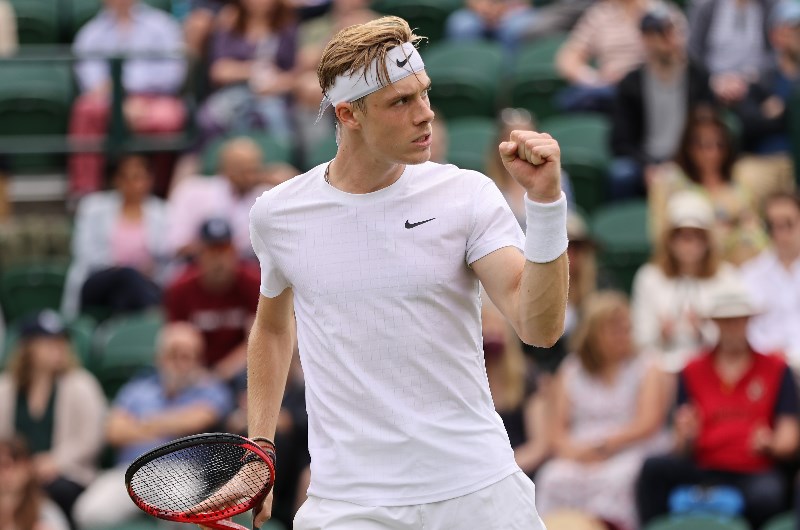 22-year-old Denis Shapovalov is probably the most marketable young player in men's tennis right now, and he possesses the same blend of talent, charisma, explosive power and pop star looks that made a young Andre Agassi such a breakout star in the late 1980s. Like Agassi, sponsors have been falling over themselves to get Shapovalov's signature, and he already has long-term deals with the likes of Nike, Yonex and Tag Heuer worth a reputed $60 million.
While both of these players are supremely talented and have adapted well to the demands of grass court tennis, I believe that if both are at their best, Khachanov has the slightly more complete game and a little more overall versatility, and I'm backing him to defeat Shapovalov in what could be a five-set thriller.
Shapovalov world no.12
Shapovalov 22-13 in 2021
Khachanov world no.29
Khachanov 20-14 in 2021
Head to Head
This will be only the second time that Denis Shapovalov and Karen Khachanov have played each other on the ATP tour. Their only prior meeting came in the 2019 Davis Cup Finals in Spain, which Shapovalov won 6-4, 4-6, 6-4.
At 25, Khachanov is the older man by three years, and at 6'6" and around 200 lbs, he is 5" taller and 30 lbs heavier than Shapovalov. Despite his huge size, Khachanov moves extremely well, and should match Shapovalov for mobility. Despite being significantly smaller, Shapovalov is one of the hardest hitters on the tour, and may have the edge in power in this matchup.
Denis Shapovalov Form
Denis Shapovalov gave notice that he might be able to adapt his power game to the rigors of grass when he reached the semifinals at Queens two weeks ago. Declaring grass to now be his "favorite surface", Shapovalov has been even more impressive at Wimbledon, coming through a five-set test against Philipp Kohlschreiber in round one, and not dropping a set since.
In the third round he took on two-time Wimbledon champ and former world no.1 Andy Murray in front of an intensely partisan crowd on Centre Court. Shapovalov is often guilty of playing to the crowd and always going for "highlight reel tennis", yet on this occasion he was as clinical and focused as a surgeon, dispatching Murray 6-4, 6-4, 6-2. He was just as proficient in the third round when he dominated 8th seed Roberto Bautista-Agut 6-1, 6-3, 7-5.
Karen Khachanov Form
Khachanov served notice that he was in serious form when he defeated Frances Tiafoe in straight sets in the 3rd round. Tiafoe had pulled off the upset of the week at Wimbledon when he thrashed third-seed Stefanos Tsitsipas in straight sets in the first round. Yet Khachanov handled Tiafoe with ease, winning 6-3, 6-4, 6-4. On Monday Khachanov took on one of the brightest of the Next-Gen stars in Sebastian Korda of the US.
Many experts believed 21-year old Korda, son of former world no.2 Petr Korda and brother of WPGA stars Jessica and Nelly Korda, would defeat Khachanov, and the youngster certainly gave it his all, with Khachanov finally winning 3-6, 6-4, 6-3, 5-7, 10-8. A couple of months ago that was the kind of match that Khachanov would have lost, but he's once again showing the grit and determination he had in 2018.
Denis Shapovalov vs Karen Khachanov FAQ
When is the Denis Shapovalov vs Karen Khachanov match taking place?
Denis Shapovalov vs Karen Khachanov takes place at 12:00 AM (AEDT) on Wednesday, July 7
Where can I watch a Denis Shapovalov vs Karen Khachanov live stream?
Our live streaming calendar shows you where you can watch a Denis Shapovalov vs Karen Khachanov live stream
Verdict
This is a very tough match to call. As a huge fan of Denis Shapovalov, I have been very impressed with the maturity of his play at Wimbledon. In fact, should he keep this up, he could be lifting the trophy in the near future.

However, I have been even more impressed by the return to form of Karen Khachanov. In 2018 when winning the Paris Masters aged 22, he had looked like a future world no.1. He was the first of the current crop of giants (he's 6'6") who cover the court like middleweights, and has since been joined by Tsitsipas, Medvedev and Berrettini.

On his day Khachanov may be even more talented than those three, with no weaknesses to his game. That's why I'm backing him to defeat Shapovalov on Wednesday in a five-set thriller.
Denis Shapovalov v Karen Khachanov