Ashleigh Barty vs Karolina Pliskova Live Stream & Tips - Barty to win Wimbledon crown
Ashleigh Barty vs Karolina Pliskova predictions for Saturday's Wimbledon final
Eighth meeting between Barty & Pliskova
Barty leads Pliskova 5-2
Stats, preview, predictions and player news
(Getty Images)
Ashleigh Barty vs Karolina Pliskova Live Stream & Tips
Top seed Ashleigh Barty of Australia will take on the no.8 seed Karolina Pliskova of the Czech Republic in the Wimbledon women's singles final on Saturday, July 10. Barty is chasing a first ever Wimbledon title and second slam victory, while former world number one Pliskova is going for her first slam win.
In the semifinals, Barty defeated former Wimbledon champion Angelique Kerber 6-3, 7-6. Kerber, a former world number one and three time slam champion is enjoying a return to form and at 33 still too much for Coco Gauff, whom she dispatched in the quarterfinals. However she was no match for Barty, who had an answer to everything Kerber tried to do.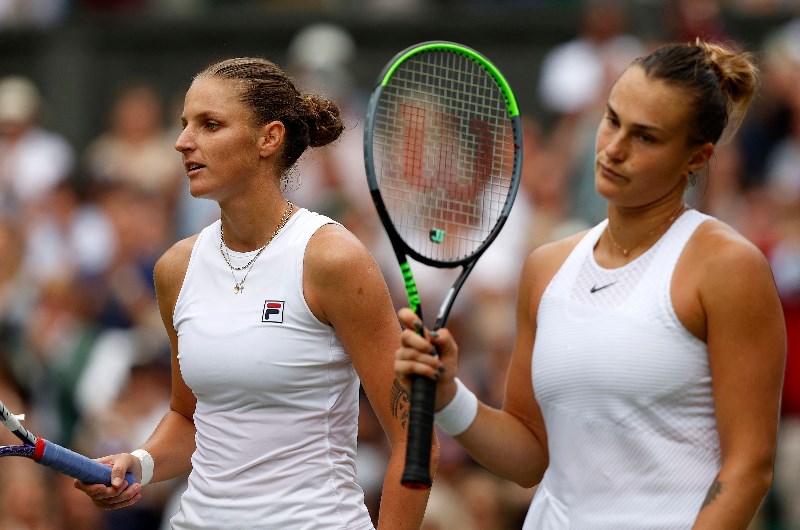 Pliskova upset the no.2 seed Aryna Sabalenka of Belarus 5-7, 6-4, 6-4. Pliskova is something of a fan favorite with the Wimbledon crowd, and her win was well received. The powerful world no.4 Sabalenka has already had an excellent 2021, and at 23 looks like a future multiple slam win and world no.1.
Physically Barty and Pliskova are very different athletes; the Australian is short for a modern female player and stands just 5'5" tall. However, even at that height Barty still has one of the best serves women's tennis. She is exceptionally athletic but what sets her apart from the rest of the field is her mind – Barty has the best tennis brain since Martina Hingis. By comparison the 6'2" Pliskova is regal and almost statuesque.
I'm backing Ashleigh Barty to win her first Wimbledon title on Saturday with a three-set victory over Karolina Pliskova.
Barty world no.1
Barty has won 3 titles in 2021
Pliskova world no.13
Pliskova finalist at 2021 Italian Open
Head to Head
Ashleigh Barty and Karolina Pliskova have played each other seven times, with the score currently 5-2 in Barty's favor. Their most recent meeting came this year in Stuttgart where Barty was victorious 2-6, 6-1, 7-5. Pliskova's most recent victory over Barty came at the 2018 U.S. Open where she won 6-4, 6-4.
Interestingly, all but one of Barty's wins over Pliskova have gone the three set distance, while both of Pliskova's wins over Barty were in straight sets.
Ashleigh Barty Form
25-year-old Ash Barty is enjoying an excellent 2021, and has already won three titles, in Stuttgart, Miami and Melbourne. Barty was forced to retire injured in the second round of the French Open in June, and once she had regained het fitness she elected not to play any Wimbledon warm-up events. That lack of grass court preparation hasn't seemed to harm her game whatsoever, and her form at SW19 has been excellent.
Barty cruised through her first four matches without the loss of a set, and in the semifinals ran into a resurgent Angelique Kerber, who had taken out seeds Karolina Muchova and Coco Gauff in her last two matches. Although only seeded 25, former world no.1 Kerber was playing her best grass-court tennis in recent years, and many thought she might beat Barty. However the Australian proved simply too smart and had too many weapons, winning comfortably 6-3, 7-6.
Karolina Pliskova Form
29-year-old Karolina Pliskova was world no.1 in 2017, and while she has yet to win a slam, she has been a semifinalist at the Australian and French Opens, and a finalist at the U.S. Open and now Wimbledon. Currently world no.13, Pliskova was a losing finalist at this year's Italian Open, going down to Iga Swiatek.
Pliskova hadn't dropped a set on the way to the semifinals, and he played excellently against Sabalenka, who has been one of the standout players on the WTA tour this year, Pliskova winning 5-7, 6-4, 6-4. Sabalenka was clearly disappointed to lose to Pliskova, and barely acknowledged her after the match. However the Wimbledon Centre Court crowd clearly have an affinity for Pliskova and were pleased to see her reach the Wimbledon final.
Ashleigh Barty vs Karolina Pliskova FAQ
When is the Ashleigh Barty vs Karolina Pliskova match taking place?
Ashleigh Barty vs Karolina Pliskova takes place at 1:00 AM (AEDT) on Saturday, July 10
Where can I watch an Ashleigh Barty vs Karolina Pliskova live stream?
Our live streaming calendar shows you where you can watch an Ashleigh Barty vs Karolina Pliskova live stream
Verdict
Top seed and world no.1 Ashleigh Barty takes on 8th seed Karolina Pliskova in the women's singles final of Wimbledon on Saturday (July 10). The 6'2" Pliskova is a former world number no.1, and possesses one of the best serves on the tour. In her semifinal, Pliskova defeated the dangerous no.2 seed Aryna Sabalenka in three sets.

Ash Barty is yet to drop a set at this year's Wimbledon, and in her semifinal she defeated former champion Angelique Kerber 6-3, 7-6. Barty is hoping to add another slam to her collection, which right now is just the 2019 French Open trophy.

I'm backing Ashleigh Barty to win that second slam with a three-set victory over Karolina Pliskova on Saturday. Pliskova is serving well enough to give even the very best in the world something to think about, but I'm predicting that Barty is just too smart and has too many facets to her game, winning in three close sets.
Ashleigh Barty v Karolina Pliskova