Andy Murray vs Denis Shapovalov Live Stream & Tips - Murray's Wimbledon comeback rolls on
Murray vs Shapovalov predictions for Thursday's Wimbledon match
First ever meeting between Murray & Shapovalov
Murray a two-time Wimbledon champion
Stats, preview, predictions and player news
(Getty Images)
Andy Murray vs Denis Shapovalov Live Stream & Tips
Two-time champion Andy Murray takes on rising Canadian star Denis Shapovalov in the third round at Wimbledon on Friday, July 2. The first British men's singles winner since Fred Perry in the 1930s, Andy Murray remains incredibly popular, and the big Scott is playing his best tennis at 2W19 since losing to Sam Querrey in the 2017 quarterfinals. Murray was world no.1 at that time, but was forced to abandon tennis and undergo a double hip replacement.
Murray's two wins at this year's Wimbledon have both been night matches in front of a packed Centre Court and millions watching on TV. Murray loves to play in front of his UK fans, and rewarded them with a four-set win over 28th seed Nikoloz Basilashvili, followed by a come-from behind five-set victory over German qualifier Oscar Otte.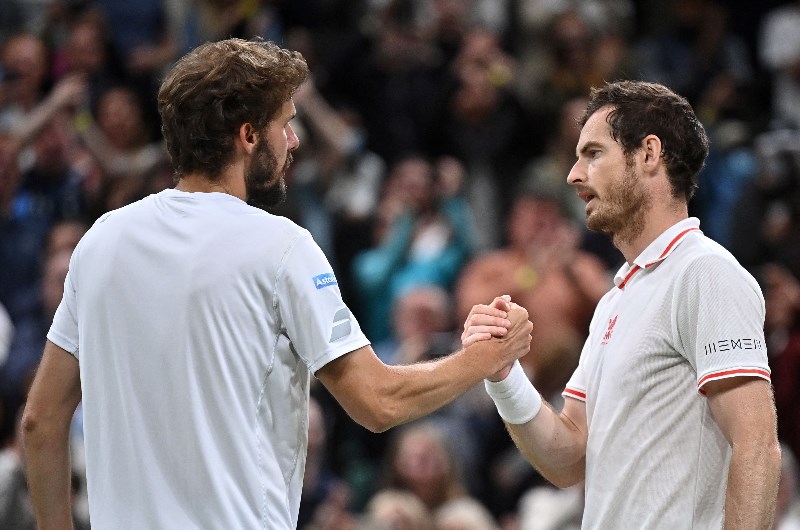 For 22-year old Denis Shapovalov, this will likely be the biggest match he has ever been involved in, in terms of media frenzy surrounding it, plus the huge, passionate yet respectful Wimbledon crowd who will cheer every Murray winner, and the occasional Shapovalov error. However, much like a young Andre Agassi, Shapovalov is a born entertainer who loves to play to the crowd, and will probably enjoy the experience enormously, win or lose. As he said in an interview yesterday:
"Definitely I think it's a great moment for me. Obviously it's going to be my first time on Centre Court at Wimbledon, so it's super exciting for me, my team and my career. Definitely a match I grew up wanting: to play against Andy in the spotlight like this. So it's definitely a match I'm looking forward to."
I'm backing Andy Murray to pull off his best win since 2016 by defeating Denis Shapovalov in straight sets on Friday. Murray is simply a far better and vastly more experienced grass court tennis player, while Shapovalov is still coming to terms with the surface.
Murray world no.118
Murray 9-4 in 2021
Shapovalov world no.12
Shapovalov 20-13 in 2021
Head to Head
This will be the first time Andy Murray and Denis Shapovalov have played each other on a tennis court. Physically they are very different – Murray is 12 year the older man at 34, and is still recovering from a double hip replacement. At 6'3" and around 195 lbs, he will be a couple of inches taller and about 20 lbs heavier than his rival. Murray has a solid all-round game, and is a counterpuncher by nature.
Shapovalov is one of the hardest hitters on the ATP tour, and if he has one flaw in his mentality, it's that he always tries to play "lights-out" tennis. Shapovalov's favorite shot is his leaping single-handed backhand which is unique to him, and usually results in a spectacular winner. Young tennis fans love Shapovalov, and Forbes revealed recently that he already has $60 million worth of endorsement deals with brands like Nike, Yonex and Tag Heur.
Andy Murray Form
Andy Murray surely came into this year's Wimbledon hoping for the best but prepared for the worst. The 34-year old Scott has been through too much in the past four years to believe otherwise, and must be pleasantly surprised at his progress thus far. Murray must also be a little overwhelmed at how much he still has the backing of the British fans, who have surely raised Andy's level by virtue of the many decibels of support they have generated.
Murray surprised many with his confidence in handling 28th seeded Georgian Nikoloz Basilashvili, winning 6-4, 6-3, 5-7, 6-3. Next up came the little-known German Oscar Otte, 6'5" and 27 years old with a quick service action which made his delivery particularly difficult to read. Despite never having been ranked higher than 129, Otte displayed good skills and excellent touch around the net.
Once again Murray won the opening set 6-3, but the German hit back and won the next two sets by the same 6-4 scoreline. Roared on by the crowd, Murray dug deep and won the fourth set 6-4, and as Otte finally began to fade, Murray powered through the fifth set 6-2 for a famous victory.
Denis Shapovalov Form
Shapovalov claims grass is his "favorite surface", although as of yet he doesn't have the results to back that statement up. This year is the first that he has performed with any level of consistency on grass, and two weeks ago he had an excellent run at Queens, reaching the semifinals and defeating former champion Feliciano Lopez and American Francis Tiafoe along the way, before losing 7-5, 6-3 to Britain's Cameron Norrie.
Shapovalov was fortunate to begin his Wimbledon campaign with a five-set victory over the evergreen Philipp Kohlschreiber, because his second round opponent Pablo Andujar withdrew injured. The fact that Shapovalov has had an extra day away from the court while his opponent Murray played a five setter against Oscar Otte could prove relevant, either positively or negatively.
Andy Murray vs Denis Shapovalov FAQ
When is the Andy Murray vs Denis Shapovalov match taking place?
Andy Murray vs Denis Shapovalov takes place at 03:00 AM (AEDT) on Friday, July 2
Where can I watch a Andy Murray vs Denis Shapovalov live stream?
Our live streaming calendar shows you where you can watch a Andy Murray vs Denis Shapovalov live stream
Verdict
Andy Murray's winning run at Wimbledon has been an unexpected but very welcome bonus to Australian and UK sports fans. What's more, in putting out the 28th seed Nikoloz Basilashvili in four sets, then coming from behind to defeat German qualifier Oscar Otte in five, Murray has shown a lot of the skills that took him to world no.1 ahead of Federer, Nadal and Djokovic.

In 10th seed Denis Shapovalov, Murray faces an opponent who is more than capable of blasting him – and indeed anyone on the tour – off the court. The 22-year-old Canadian is outrageously talented, and hits the ball harder than just about anybody. However the problem with Shapovalov is he hasn't yet learned how to "win ugly", hence, while he can beat anybody, the reverse is also true.

Because of Andy Murray's far greater experience on grass, plus the fact that while Murray is only around 60% of the player he was, that still makes him a pretty formidable player, I'm backing Scotland's finest to defeat Denis Shapovalov in straight sets on Friday.
Andy Murray v Denis Shapovalov