Stefanos Tsitsipas vs Andrey Rublev Tips - Rublev to out-slug Tsitsipas in three-set thriller
Tsitsipas vs Rublev predictions for Sunday's Monte Carlo Maters final

Rublev defeated Tsitsipas in Rotterdam
Rublev leads 2-0 in titles won in 2021
Stats, preview, predictions and player news
(Getty Images)
Stefanos Tsitsipas vs Andrey Rublev Tips
6th seeded Andrey Rublev will play Stefanos Tsitsipas in the final of the Monte Carlo Masters on Sunday (April 18). Both Rublev and fourth seed Tsitsipas have been playing fantastic tennis this week, and the final could be the best of 2021. Monte Carlo is the first big clay court event of the year, and one of the most popular stops on the ATP tour.
Rublev is through to his first ever ATP Masters Series 1000 final. He got there with tough wins over Spaniards Roberto Bautista-Agut and Rafael Nadal, and a straight-sets semifinal over rising star Casper Ruud of Norway. Tsitsipas is yet to drop a set this week, and in his semifinal demolished Novak Djokovic's conqueror Dan Evans of the UK 6-2 6-1.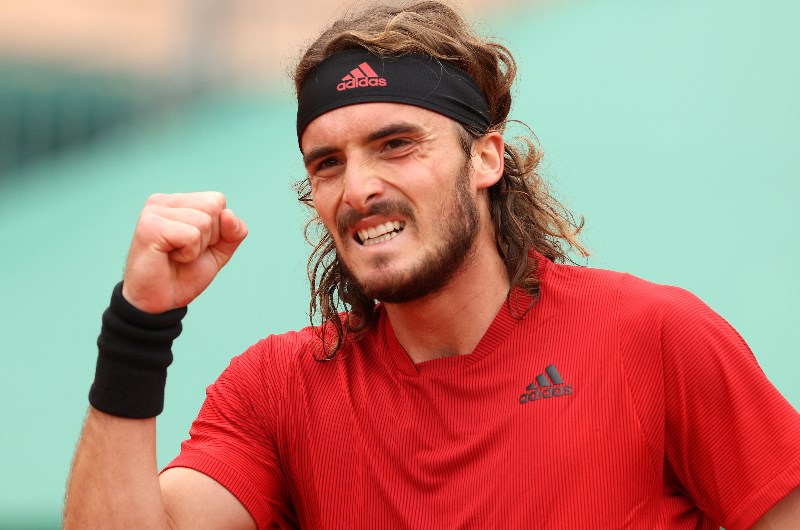 Much has been made of the limitations of Rublev as a player. While it's true that the Russian seems to have just one setting – crush the ball every time – he does this with unerring accuracy, excellent length, he has great speed and footwork and he can rally all day long. He had the normally inexhaustible Nadal bent double after one brutal 35-shot rally.
By comparison Tsitsipas brings a wide variety of shots and styles to the court; the Greek giant likes to serve big and volley when possible, but is just as happy to rally from the back of the court. His one-handed backhand gives him the option of mixing up the pace of a rally by slicing the ball, or simply blasting through it, Stan Wawrinka style.
Much as I love Tsitsipas as a player, I have to back Rublev to win Sunday's final, based off his form coming through those tough three setters with Bautista Agut and Nadal. Rublev beats Tsitsipas in a three-set thriller.
Rublev is world no.8
Rublev 20-4 in 2021
Tsitsipas is world no.5
Tsitsipas 17-5 in 2021
Head to Head
Stefanos Tsitsipas and Andrey Rublev have played each other six times, and their head-to-head stands at three wins each. They first met in 2018 at the Next-Gen ATP Finals, with Tsitsipas winning a five-setter in the semifinals. Since January 2020 they have played each other four times, and once again it's an even split of two wins apiece. They last met in Rotterdam semis this year, where Rublev won 6-3 7-5 en route to the title.
Stefanos Tsitsipas Form
Like Rublev, 22-year old Greek Stefanos Tsitsipas is already having a sensational season. The world no.5 reached the semifinals at the Australian Open (losing to Medvedev), and again in Rotterdam (Rublev), was a finalist in Acapulco (won by Sascha Zverev) and reached the quarterfinals at last week's Miami Masters, where he was beaten by eventual winner Hubert Hurkacz.
This week Tsitsipas is yet to drop a set, defeating fast-rising Russian Aslan Karatsev, 16th seeded Chilean Christian Garin, Spanish Next-Gen star Alejandro Davidovich Fokina, and in the semis he clobbered Britain's Dan Evans 6-2 6-1. Evans had beaten Novak Djokovic and David Goffin.
My one fear for Tsitsipas is that we might not have him for long. He is unusually agile and athletic for such a big guy, and he throws his huge 200 lbs frame around the court like a much smaller, slighter man would, and it seems just a matter of time before he picks up a severe injury.
Andrey Rublev Form
23-year-old Russian world no.8 Andrey Rublev has been at his bludgeoning best this week. Rublev came through back-to-back 3-set wins over 9th seed Roberto Bautista Agut and 11-time champion Rafael Nadal, then brushed aside the challenge of 22-year old Norwegian Casper Ruud 6-3 7-5 to reach his first ever ATP Masters Series final. Rublev is having an incredible year; he is chasing his third trophy of the season, and he has the best match record of any player on the tour right now with 20-4.
At 6'2" Rublev is shorter than some of his giant-sized contemporaries such as countryman Daniil Medvedev (6'6"), Italian Matteo Berrettini (6'5") and today's opponent Stefanos Tsitsipas (6'4"), but nobody on the tour is hitting the ball as hard as he is right now. That point was made abundantly clear in his quarterfinal win over Rafael Nadal on Friday.
Nadal is without doubt among the hardest hitters on the tour, surpassed only by Stan Wawrinka and Juan Martin Del Potro in the power stakes. However, Rublev was returning Nadal's biggest shots with interest. Because the Russian hits a flatter ball than Rafa, his shots were travelling much faster than if hit with a ton of topspin a-la Nadal, enabling him to consistently outpunch his illustrious opponent.
Verdict
Andrey Rublev vs Stefanos Tsitsipas FAQ
When is the Stefanos Tsitsipas vs Andrey Rublev match taking place?
Stefanos Tsitsipas vs Andrey Rublev takes place at 12:00 AM (AEDT) on Sunday, April 18
Where can I watch an Stefanos Tsitsipas vs Andrey Rublev live stream?
Our live streaming calendar shows you where you can watch an Stefanos Tsitsipas vs Andrey Rublev live stream
Verdict
Andrey Rublev and Stefanos Tsitsipas are very different players both physically and how they play the game. Tsitsipas is a born entertainer, and loves to put on a show for the fans. Rublev is far more militant in his approach, like a special-ops soldier on a seek-and-destroy mission.

I firmly believe that the charismatic Tsitsipas with his exciting brand of tennis can become as big a crossover star as Bjorn Borg, Andre Agassi, Roger Federer and Rafael Nadal should he stay healthy.

However, right now Rublev is in such a groove, hitting with such power and accuracy, he's almost unplayable. Therefore I'm backing Andrey Rublev to defeat Stefanos Tsitsipas in three thrilling sets.
Best Bet:
Rublev
Winner
@-125.00
at
BetMGM
- 1 Unit
Stefanos Tsitsipas v Andrey Rublev