Novak Djokovic vs Stefanos Tsitsipas Live Stream & Tips - Tsitsipas to upset Djokovic in Rome
Novak Djokovic vs Stefanos Tsitsipas predictions for Friday's ATP tennis match
Djokovic five-time winner in Rome
Tsitsipas 2021 Monte Carlo Masters winner
Stats, preview, predictions and player news
(Getty Images)
Novak Djokovic vs Stefanos Tsitsipas Live Stream & Tips
Defending champion and top seed Novak Djokovic will take on Stefanos Tsitsipas in the quarterfinals of the Italian Open on Friday, May 14. World no.1 Djokovic has struggled to find his form on clay, but has looked more like himself this week in Rome. Tsitsipas is currently ranked world no.5, and has won more matches than anybody else on the tour this year.
Tsitsipas has been the most consistent player on the European clay-court swing this season, winning the Masters 1000 event in Monte Carlo, and reaching the final at the Barcelona Open where he lost an epic three-set match to Rafael Nadal. Last week Tsitsipas was beaten uncharacteristically early when he was knocked out in the third round of the Madrid Masters by Casper Ruud, but he has already impressed this week by defeating this writer's pick to win the event, Matteo Berrettini.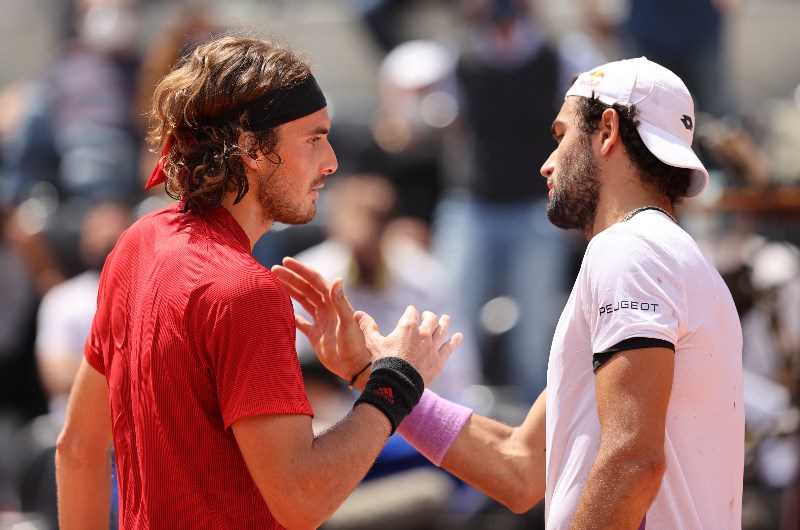 Tsitsipas defeated 9th seed Berrettini 7-6, 6-2 in a matchup between two men who very much represent the future of tennis. Both are giants, Tsitsipas is 6'4", Berrettini 6'5", and both weigh in at around 210lbs, and could box in the heavyweight division. What separated them on Thursday was the superior backhand of Tsitsipas plus the creativity and mobility of the Greek star.
Novak Djokovic has a proven track record on clay, with a French Open win in 2016 and several Masters Series victories among his 15 clay-court titles. When at his best, Djokovic is as tough to beat on clay as he is on a hardcourt. While he may not serve like Berrettini or hit his forehand like Nadal, what he does is hit everything back at pace and run all day, and that combination has served him very well indeed.
However, when faced with an opponent who can match him in terms of speed and fitness, but has that extra factor in power and creativity, Djokovic can come unstuck, and I'm backing Stefanos Tsitsipas to do just that and defeat Djokovic in straight sets on Friday.
Djokovic world no.1
Djokovic 5-2 on clay this year
Tsitsipas is world no.5
Tsitsipas 12-2 on clay this year
Head to Head
Novak Djokovic and Stefanos to surpass have played each other 6 times on the ATP tour, with Djokovic 4-2 up in their head-to-head. On clay, they are they have played each other twice, with Djokovic winning both, most recently in their last match, in the semifinals of last years French Open, with Djokovic winning in five sets 6-3, 6-2, 5-7, 4-6, 6-1.

Stefanos Tsitsipas Form
Still only 22 years old, Stefanos Tsitsipas has been making headlines in the tennis world ever since he defeated Roger Federer en route to the 2019 Australian Open semifinals. This year his record is 27-7, beginning with another semifinal appearance at the Australian Open, and while he was beaten by Alexander Zverev in the final of Acapulco, and Nadal in the Barcelona final, he won his first Masters Series with a victory at Monte Carlo.
This week, Tsitsipas is yet to drop a set, defeating Marin Cilic in the round of 32, and scoring that excellent win over Berrettini in the last 16. Without doubt, Berrettini was a major test, especially as the Italian no.1 was playing in front of his Rome home crowd in Rome and yet Tsitsipas came through with flying colors in straight sets.
Novak Djokovic Form
While Novak Djokovic will turn 34 later this month, the Serbian star shows no real signs that he is thinking about retirement anytime soon. In 2020 he ended the year at no.1 for a record sixth time, and in February he won a record ninth Australian Open title, bringing his total of slam victories to 18, just two behind the totals of Nadal and Roger Federer. But while Djokovic may eventually catch up and even surpass the totals of those two, he will probably never be as beloved by fans as they are, and we saw a glimpse as to why this week.
During his second round match with rising US prospect Taylor Fritz, Djokovic completely lost his temper when asking the umpire if they could have a break because of the increasing amount of rainfall. While not quite a full psychotic episode, Djokovic stood screaming, eyes bulging, face red, as he demanded the umpire tell him how much longer he was going to leave them on the court. While it was highly entertaining, it also gave us a somewhat worrying insight into what it must be like to be around Djokovic on a regular basis.
He went on to defeat Fritz – who took him to 5 sets in Melbourne - 6-3, 7-6, and then brushed aside 21-year Spaniard Alejandro Davidovic 6-2, 6-1.
Novak Djokovic vs Stefanos Tsitsipas FAQ
When is the Novak Djokovic vs Stefanos Tsitsipas match taking place?
Novak Djokovic vs Stefanos Tsitsipas takes place at 12:00 AM (AEDT) on Friday, May 14
Where can I watch a Novak Djokovic vs Stefanos Tsitsipas live stream?
Our live streaming calendar shows you where you can watch a Rafael Nadal vs Jannik Sinner live stream
Verdict
To defeat Novak Djokovic on any surface, a player must be able to match him for consistency from the back of the court, plus have the capacity to mix things up, using explosive pace to hit winners, or throwing in the occasional serve-volley tactic.

Stefanos Tsitsipas has displayed a new maturity on clay this year, and in his recent matches with Andrey Rublev and Nadal showed he is prepared to rally patiently from the back of the court while always having that explosive capacity to hit winners from anywhere. He is also highly adept at serve and volleying, which is something of a rarity on clay, yet highly effective.

Because of these factors, I'm backing Tsitsipas to defeat Djokovic on Friday in two tight sets.
Best Bet:
Tsitsipas
Winner
@120.00
at
BetMGM
- 1 Unit
Stefanos Tsitsipas v Novak Djokovic