French Open 2021 Tips - Who'll be crowned King & Queen of Clay
The 2021 French Open starts on May 23
French Open Men's Champ Rafa Nadal
French Open Women's champ Iga Swiatek
French Open stats, previews, predictions and player news
(Getty Images)
French Open 2021 Tips
The ATP and WTA tours have switched from the hardcourts of the Middle East and the US to the clay courts of Europe, beginning with the recent ATP 1000 event in Monte Carlo. That will be followed by clay court tournaments in Barcelona, Munich, Portugal and Serbia. In May there are back-to-back ATP Masters 1000 Series events in Madrid and Rome, and on May 23 the French Open kicks off.
Roland Garros
The French Open, also known as Roland Garros, is the second grand slam event on the tennis calendar, and the only one that is played on red clay. Because a tennis ball bounces off a clay court slower than it would off a grass or cement court, the tennis played at clay court events is fractionally slower. The serve is less dominant, a point is harder to win, and rallies are longer and often more spectacular.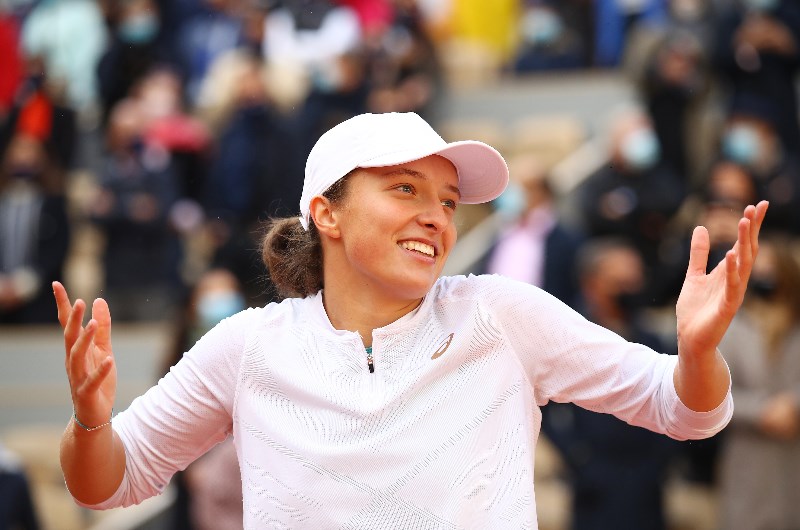 Winning the French Open is regarded as the ultimate physical achievement because it tests a player's fitness and durability, their focus and concentration as well as of their skill as a tennis player. If we look at some of the great clay court champions of the open era, Bjorn Borg, Guillermo Vilas, Ivan Lendl, Mats Wilander, Jim Courier, Thomas Muster, Sergi Bruguera, Gustavo Kuerten, and of course, Rafael Nadal, all possess that combination of supreme fitness plus mental resolve one associates with tour cyclists, triathletes and extreme runners.
Clay is this writer's favorite surface; just watch the 2015 French Open final between Novak Djokovic and Stan Wawrinka (won by Stan) for an example of just how exciting tennis on clay can be.
Historically, the French Open has been the toughest of all slams to win, especially for men from the US, Australia and Great Britain, indeed anyone hailing from a country that has few clay courts. Some of the game's greatest ever players such as Pete Sampras, Jimmy Connors, John McEnroe, Stefan Edberg and Boris Becker didn't win at Roland Garros, while others such as Roger Federer, Novak Djokovic and Andre Agassi managed to win it just once.
The gap in great female players who never won in Paris is less, but still there, and Martina Hingis, Venus Williams, Kim Clijsters, Tracy Austin, Lindsey Davenport, Virginia Wade and Angelique Kerber are just some of the women who won multiple slams during their careers, but not at Roland Garros.
Novak Djokovic is top seed in Paris
Rafael Nadal is 13-time French Open champion
Iga Swiatek is defending French Open champion
Iga Swiatek is bookies favorite to win again
Men's Singles Winner 2021
Who will win the French Open men's singles this year? Here are three frontrunners:
Rafael Nadal 5/6
The front runner is clearly world no.3 34-year old Rafael Nadal who claimed his 13th French Open title last year, didn't drop a set all fortnight, and thrashed arch-rival Novak Djokovic in the final. Rafa knows that another win in Paris will put him out on his own with 21 Grand Slam titles, one more than Roger Federer.
Nadal has been beaten only twice at Roland Garros – in 2009 by an inspired Robin Soderling, and in 2015 by Novak Djokovic during the worst slump of Rafa's career. A frightening fact is that since regaining his title in 2017, Nadal has dropped just three sets, losing none in 2017 and 2020, one in 2018 and two in 2019.
Dominic Thiem 5/1
If the 27-year old world no.4 Dominic Thiem can rediscover the relentless power and intensity that took him to numerous wins over the world's top players, a US Open title and three appearances in French Open finals, then he is the one man above all other who could displace Nadal from his throne.
Thiem has that "X" factor that Stan Wawrinka had; when he is on his A-Game, he can beat the very best players in the world, at their very best – Nadal on clay included. However, at the time of writing Thiem is yet to hit his stride in 2021. However, all it will take will be some solid clay court wins for Thiem to regain his confidence.
Daniil Medvedev 22/1
25-year old Daniil Medvedev is up to world no.2 after another winning surge that took him to the Australian Open final, where unfortunately he froze somewhat against Novak Djokovic. Still, the 25-year old remains a fearsome prospect when in full flow, and that beanpole 6'6" frame generates freaky power on serve and off both flanks. However, while he would appear to have the game for clay, he hasn't done anything on the red dirt yet, in fact he's only reached one final.
Women's Singles Winner 2021
Who will be lifting the Ladies Singles Trophy? Here are three top contenders:
Naomi Osaka 9/1
23-year old world no.2 Naomi Osaka is a hybrid of arguably the two best female players ever – Steffi Graf and Serena Williams. Osaka possesses Steffi's speed about the court, her excellent footwork and intelligence, plus she has Williams' power off the serve and groundstrokes. It's a lethal combination, and means that when she's at her best she's virtually unplayable.
Osaka was barely 20 when she defeated Serena Williams in straight sets to win the 2018 US Open, famously resulting in Serena having the mother of all meltdowns on the court. She proved that win was no fluke by winning the 2019 Australian Open and becoming world no.1.
The inevitable slump followed and for a few months we worried that Osaka might go the way of so many young female tennis phenoms such as the 2017 French Open champion Jelena Ostapenko and 2017 US Open winner Sloane Stephens. However, Osaka regained her US Open crown in 2020 and her Australian Open title earlier this year, and could well win the Grand Slam of all four majors this year – a feat not done since Steffi Graf in 1988.
Iga Swiatek 9/2
At the 2020 French Open, the unseeded and virtually unknown Iga Swiatek brought back memories of a 17-year old Boris Becker winning Wimbledon in 1985 in the way that she fearlessly overpowered everyone who stood in her path.
The 19-year old Swiatek seemingly came out of nowhere (she was ranked 54 in the world) and proceeded to play tennis from another planet, not dropping a single set nor conceding more than five games in a match on the way to the title, her first on the WTA tour. She defeated the top seed Simona Halep in the quarterfinals, and young American star Sofia Kenin in the final.
Can she do it again in 2021? World no.16 Swiatek will still be a teenager when this year's tournament begins, and hopefully she will be just as fearless. An 18-year old Boris Becker retained his Wimbledon title in 1986, will Iga do the same?
If only 27-year old world no. 13 Garbine Muguruza had the heart of a David Ferrer or the tennis brain of an Ash Barty. The 6' Spaniard has the kind of athleticism and raw power that is normally confined to the ATP tour. She has demolished some of the biggest names in women's tennis – Serena included – has won two slams, and been world no.1, and yet is regarded as an underachiever.
When in her early 20s and fearless, Muguruza won the French Open in 2016 and Wimbledon in 2017. Since then she hasn't come close to winning another slam – until 2020 when she made the Australian Open final but was well beaten by 19-year old Sofia Kenin. And yet, if Garbine gets into her stride and regains her self-belief – watch out!
French Open 2021 FAQ
When is the French Open 2021 taking place?
French Open 2021 takes place from May 23 until June 6
Where can I watch a French Open 2021 live stream?
Our live streaming calendar shows you where you can watch a French Open 2021 live stream
Verdict
Two players stand head and shoulders above the rest in Paris, one is chasing their 14th title there, and the other is hoping to win a first.

If Rafael Nadal and Naomi Osaka are still there at the start of the second week at Roland Garros, everyone else may as well go home. I'm backing Nadal to win a 14th French Open title and Osaka to win her first of many Roland Garros trophies.

Best Bet:
Rafael Nadal
Winner
@-120.48
at
BetMGM
- 1 Unit