Premier League 2022/23 Multibets - 5 value bets for the season
Get the best multibets before the start of the 2022/23 Premier League season
Bets feature Manchester City, Liverpool, Fulham and Nottingham Forest
All odds from Picklebet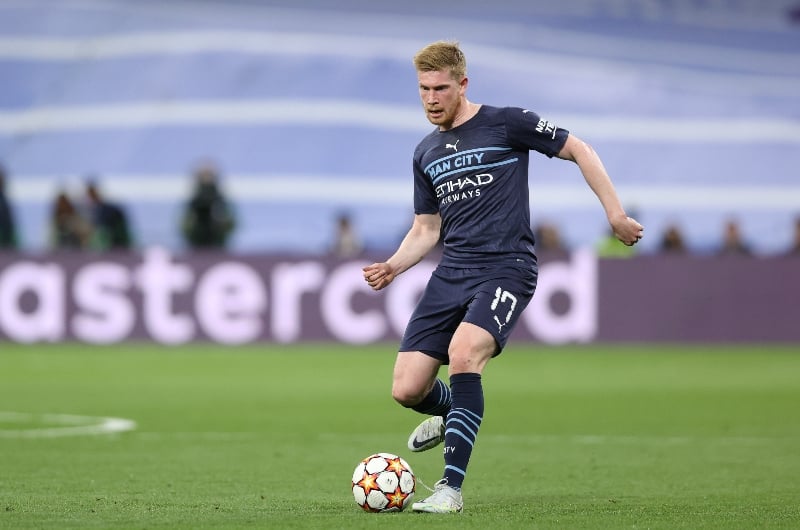 Kevin De Bruyne of Manchester City. (Photo by Gonzalo Arroyo Moreno/Getty Images)
The Premier League season is finally here, and we have picked out our favourite multibets from Picklebet for you to use. Below, you will find multibets for the title, top four, relegation and more! All odds are correct at the time of writing, but be warned - these odds will change as the season gets underway!
This multibet hinges on all three of the above teams being relegated. Relegation sees the teams sitting in 18th, 19th and 20th all losing their Premier League status at the end of the campaign. All three sides are among the favourites to go down, although Huddersfield are fancied to go down more than Brentford with most bookies. However, if you can nail this bet, with Bournemouth, Brentford and Fulham all going down, then you will get paid out with odds of $12.00.
Like the above multibet, this relegation treble hinges on newly-promoted Nottingham Forest, and Fulham going down along with Leeds. The order in which they go down does not matter, as long as the three sides that are relegated are Forest, Leeds and Fulham. This will payout with a price of $14.00.
This multibet is a four-pronged bet that requires all four different scenarios to come true. Manchester City will have to lift the Premier League trophy, Arsenal will need to finish second, third or fourth, Everton must finish in the bottom-half of the table, and Bournemouth must be one of the three teams relegated to the Championship. It is not good enough if City win the title, Everton finish in the bottom-half and Bournemouth are relegated if Arsenal then miss out on the top-four. If you nail all four bets, you will get paid with odds of $9.00.
This bet will see you looking to wager on the traditional top-six finishing as the top-six. It does not matter which side finishes where, as long as City, Liverpool Manchester United, Arsenal, Spurs and Chelsea are the sides occupying the top-six spots, then your bet will win at $3.00.
The longest of our bets with a total of five scenarios that need to come off for your bet to win. Liverpool must go one better than they managed last season by winning the league, while Tottenham need to finish in the top-four, like they did last year. With their mega-money backing, Newcastle must finish in the top-half, while newly-promoted Fulham and last season's strugglers Leeds need to be relegated. At $61.00, this bet provides a lot of value and risk.
Premier League FAQs
When does the Premier League start?
The Premier League 2022/23 begins on Saturday, August 6, as Crystal Palace host Arsenal.