Baltimore Ravens @ Las Vegas Raiders Tips & Live Stream - Ravens to win opener against Raiders
Baltimore Ravens @ Las Vegas Raiders tips for Tuesday's NFL match
The Ravens made it to the Division playoffs last season
The Raiders finished second in the American Football Conference
Match preview, predictions and stats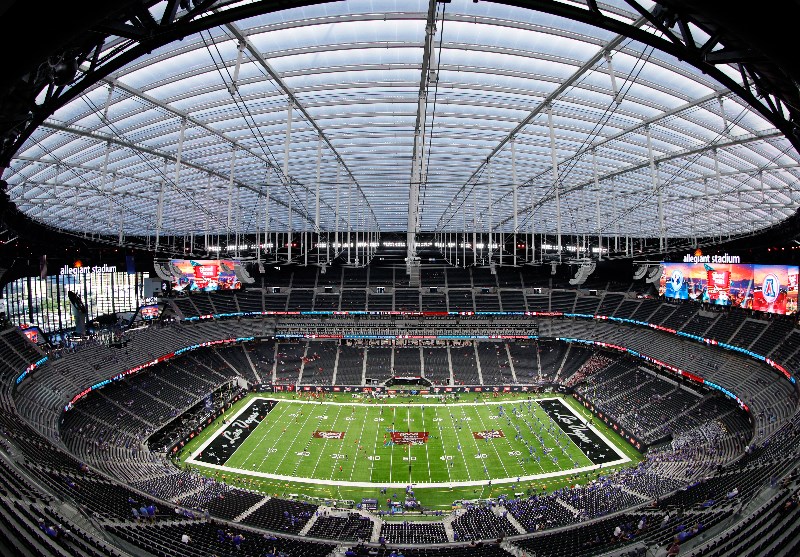 Allegiant Stadium hosts Monday Night Football (Getty Images) (credit: Getty Images )
Baltimore Ravens @ Las Vegas Raiders Tips
The Baltimore Ravens and the Las Vegas Raiders headline Monday Night Football at the Allegiant Stadium. The Ravens are tipped to claim victory in Week 1.
The Raiders have only beaten the Ravens three times
The Ravens have beaten the Raiders four times in the last six matches
The Ravens were ranked seventh in the NFL for defensive net yards per game last season with 329.8
The Raiders were ranked eighth last season for net yards per game acquiring 383.3
Head to Head
These two teams have met only 12 times throughout their history, with the first match taking place in 1996 when the Ravens came out on top.
Since then, the Ravens have defeated the Raiders nine times, while the Raiders have only claimed three wins.
Las Vegas Raiders Form
The Raiders looked like they were going to make it to the playoffs last season, but a few close losses ended their playoff hopes late in the season.

The Raiders will be full of confidence heading into their first game of the season as they won two pre-season games from three.
Those wins came against the Seattle Seahawks and the Los Angeles Rams, with their only loss coming against the San Francisco 49ers.
Baltimore Ravens Form
Baltimore finished second in the American Football Conference North Division with 11 wins and earned a spot in the playoffs.
The Ravens season ended abruptly when they lost to the Tennessee Titans in the Divisional Round.
The Ravens made light work of their pre-season games, winning all three against the New Orleans Saints, Carolina Panthers and the Washington Football team.
Baltimore Ravens @ Las Vegas Raiders FAQs
Where can I watch Baltimore Ravens @ Las Vegas Raiders?
Check out our live stream calendar to see where you can watch the Baltimore Ravens @ Las Vegas Raiders live stream.
What time does the Baltimore Ravens @ Las Vegas Raiders start?
The Baltimore Ravens @ Las Vegas Raiders match starts at Tuesday, September 14 at 10.15am AEDT.
Verdict
The Raiders showed a bit of promise last season, but couldn't quite contain it especially in the later parts of the season. The Ravens finished last season with more wins than their opponents and are in the top 10 of defensive net yards per game, with Baltimore tipped to win the first Monday Night Football game.