Super Netball Round 12 Tips - Previews & Predictions for all games
Super Netball Round 12 takes place this weekend
West Coast Fever and Melbourne Vixens get things underway on Thursday
Previews for all four matches, which are streamed live at bet365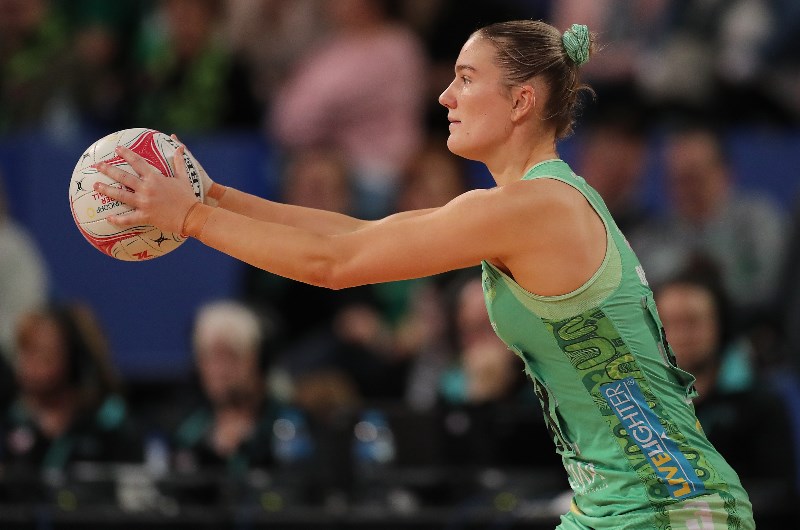 West Coast Fever (Getty Images)
The Suncorp Super Netball season reaches Round 12 this week and James Halley previews all of the action.
The Melbourne Vixens and West Coast Fever will play their postponed Round 8 match on Thursday at Brisbane's Nissan Arena.
The Fever and Vixens have joined all Suncorp Super Netball clubs in Queensland, to play out the rest of the season since Adelaide, Sydney and Melbourne are all currently in COVID-19 forced lockdowns.
Latest Super Netball Premiership Odds from Sportsbet:
West Coast Fever $2.25, NSW Swifts $4.00, Giants Netball $4.00, Sunshine Coast Lightning $7.00, Queensland Firebirds $13.00, Magpies Netball $101.00, Adelaide Thunderbirds $251.00, Melbourne Vixens N/A
West Coast Fever vs Melbourne Vixens (Thursday @ 7:30pm at Brisbane's Nissan Arena)
West Coast will take on Melbourne in a rescheduled round 8 match. We are anticipating that the 4th placed Fever will easily beat the bottom placed Vixens in Brisbane. A win will put West Coast one win off top spot with three rounds remaining. Last week Melbourne fell four goals short of Collingwood, losing 48-52. Midcourter Hannah Mundy (32 feeds, 17 goal assists) was the Vixens best. West coast easily defeated the Thunderbirds 69-44. Fever shooter Jhaniele Fowler was unstoppable within the circle, shooting 57/58 goals.
Match Odds (bet365):
West Coast Fever $1.10 vs Melbourne Vixens $6.50
Collingwood Magpies vs NSW Swifts (Tuesday @ 3:30 at Brisbane's Nissan Arena)
Collingwood will take on NSW at Nissan Arena in the second match of round 12. We expect the 2nd placed Swifts will defeat the Magpies, allowing the Swifts to regain top spot after losing the NSW derby 55-59 last week. Swifts midcourter Paige Hadley was a shining light for NSW in defeat. She switched between all three positions, ending with 29 feeds and 16 assists with zero turnovers. Last week Collingwood defeated the Vixens to win the Victorian derby by four goals, winning 48-52. The accuracy of Magpie shooters Shimona Nelson (37/37) and Gabi Sinclair (14/17) proved the difference against Melbourne.
Match Odds (TAB):
Collingwood Magpies $4.00 vs NSW Swifts $1.10
West Coast Fever vs Queensland Firebirds (Tuesday @ 6:30 at Brisbane's Nissan Arena)
West Coast will take on Queensland on Tuesday night in the third match of round 12. The 4th placed Fever should get the crucial four points against the 5th placed Firebirds. A win for either side will have major ramifications on the run home to finals. The Fever were too strong for the Vixens last week, winning 64-50 in their rescheduled round 8 match. Jhaniele Fowler (58 goals) was on fire, while the attacking minded pair of Verity Charles and Teague-Neeld were just as damaging with a combined 57 feeds. In round 11 the Firebirds shocked the Lightning, winning 59-49 at Nissan Arena. Midcourter Kim Ravaillion (31 feeds) and goal attack Gretel Bueta (19 goals at 90%, 26 centre pass receives) led from the front, while Romelda Aiken (40 goals) was lethal in front of goal.
Match Odds (TAB):
West Coast Fever $1.30 vs Queensland Firebirds $3.30 (TAB)
Giants Netball vs Melbourne Vixens (Wednesday @ 3:30 at Brisbane's Nissan Arena)
The Giants should comfortably defeat the Vixens on Wednesday afternoon. GWS are fresh off defeating the Swifts in the Sydney derby in round 11, winning 55-59. Wing attack Maddie Hay lead the way for the Giants with 32 feeds and 19 goal assists, while Sophie Dwyer shot 19 goals at 100%. The Vixens were decimated by the Fever last Thursday to kick off round 12, losing 64-50. Centre Kate Moloney tried her heart out all match and goal shooter Mwai Kumwenda converted 31 goals from 33 attempts.
Match Odds (TAB):
Giants Netball $1.13 vs Melbourne Vixens $5.50 (TAB)
Sunshine Coast Lightning vs Adelaide Thunderbirds (Wednesday @ 6:30 at Brisbane's Nissan Arena)
We foresee Sunshine Coast consolidating their claim over top spot with a win over Adelaide on Wednesday night. The Lightning will be keen to bounce back after a disappointing 10 goal loss to the Firebirds in round 11. Cara Koenen was the Lightning's best with 31 goals. Last week the Thunderbirds lost by an astounding 25 goals against West Coast. Adelaide goal shooter Lenzie Potgieter took the most of her chances, scoring 26 goals at 100%.
Match Odds (TAB):
Sunshine Coast $1.30 vs Adelaide Thunderbirds $3.50 (TAB)