Who are the best undefeated horses in history?
It takes a special horse to go through a career undefeated and Alex Marsh has taken a look at the best of the best.
Black Caviar wins her 23rd consecutive race, the Black Caviar Lightning Stakes during Lightning Stakes Day at Flemington Racecourse on February 16, 2013 (Photo by Lucas Dawson/Getty Images for the VRC)
Who Are The Best Undefeated Horses In Racing History?
We take a look at the best undefeated racehorses in history with some modern-day famous names and a few slightly left-of-centre nominations making the list.
Where Do The Best Of The Best Rank?
54 wins - KINSCEM. Bred in Hungary, foaled in 1874. Is the clear the leader of this category with an astonishing unbeaten record from fifty four attempts that spanned more than three years (June 1876 - October 1879).
A truly versatile champion with wins ranging from a 947m dash at start number four all the way to when the famous Goodwood Cup was a 4022m event, in her last year of racing (1879) she carried an average winning weight of 69.5kg from twelve starts with distances ranging from 2400m - 3600m.
In total, Kinscem won in five countries which included Austria, Hungary, Germany, France and England.
As a broodmare, she produced a German and Austrian Derby winner whilst if we go back far enough (17th dam), Europe's Champion Three-Year-Old colt of 2012 in Camelot can be traced back on the same female line.
25 wins - BLACK CAVIAR. Bred in Australia, foaled in 2016. Undefeated from twenty five attempts and named the World Champion Sprinter four years in succession from 2010-2013 by World Thoroughbred Racing Rankings and following that, Longines World's Best Racehorse Rankings.
Officially rated as the world's best horse from November 1 2012 through to April 28 2013, her five-year-old season was capped off with an via the Diamond Jubilee Stakes at Royal Ascot when injured to make it twenty two victories before returning to the track in 2013 at Flemington and winning the race named in her honor, the Black Caviar Lightning Stakes.
In November 2012, Black Caviar became the first galloper trained outside of Europe to be awarded the European Champion Sprinter.
19 Wins - PEPPERS PRIDE. Bred in USA, foaled 2003. Bred and owned by businessman Joseph Allen, is an interesting one on the list given she only raced in her birth state of New Mexico, had no big major or famous race wins and could have been purchased for $12,500 prior to her four and a half length maiden win.
Several better accomplished racehorses have won more consecutive races and whilst this mare was aided by savvy local placement, she kept the unblemished record in-tact and was able to accumulate more than $1 million in earnings over the journey.
Peppers Pride's victories ranged from 1100m to 1600m and whilst fourteen of her wins came at stakes level, they all came in restricted company.
The Best
16 Wins - RIBOT. Bred in England, foaled in 1952. One of the top-rated Timeform racehorses of all time is this Italian trained galloper who showed grand durability in winning from 1000m - 3000m over a racing career that spanned three seasons.
By the champion Tenerani, his last season as a four-year-old included a five length Ascot romp in Britain's most prestigious race, the King George VI and Queen Elizabeth Stakes before a career culminating second win of the Prix de l'arc de Triomphe by six lengths.
A highly successful stallion post-racing, Ribot was the leading sire in Great Britain and Ireland for three years and his progeny include Molvedo and Prince Royal, both Prix de l'arc de Triomphe winners.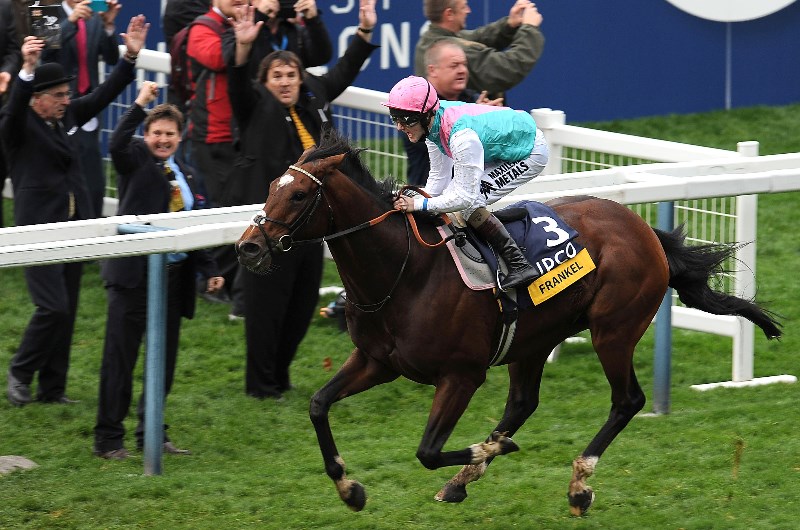 14 Wins - FRANKEL. Bred in England, foaled in 2008.
Doesn't get the top three by wins but gets the nod by quality if the ratings are anything to go by with a Timeform final rating of 147 etched next his name, the highest of all time.
Winning from 1400m - 2000m which included ten Group One victories, his average winning margin over his career was just under five and a half lengths and over his career, defeated twenty five Group One winners.
Allegedly out-pacing the Cambridge to Newmarket train one morning, Frankel produced the longest unbeaten winning sequence in Europe since Ribot and is now leaving his mark in the breeding barn with a 14% Group winners to runners strike rate.