Saturday Blackbookers - June 12
We've reviewed all of the city meetings from Saturday, June 12
The team has assembled their runners to follow from the Belmont, Eagle Farm, Morphettville, Randwick and Sandown cards
Blackbook runners are included below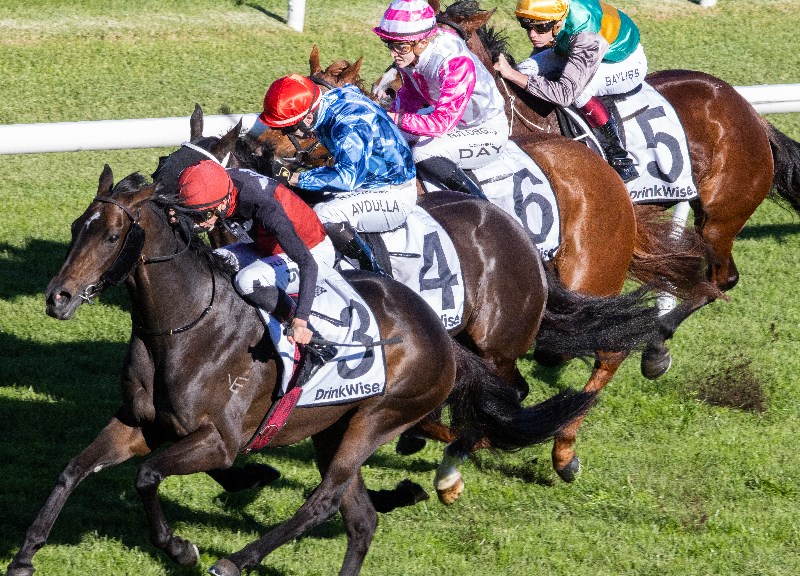 La Chevalee was luckless behind Seentoomany at Randwick on Saturday. (Getty)
BELMONT
Race 6 - Aberdeen Queen (sixth). Class got her home first-up at Northam and sustaining a wide run while a poor gate was the only factor that stopped her going back-to-back second-up. Was the only runner in the last to break 34 seconds for the last 600m (33.97) there and was completely unsuited off the speed and wide here in a slowly run race. Going well, just had no luck at her last two.
Race 9 - Born To Try (third). After carrying weight to victory on May 22, this mare was stepping from 1600m to 2100m on the seven-day back-up when a little unlucky behind Blackwater Bay. Was well suited on paper here and if Pike had his time again, he would've pushed forward after starting so well. Huge effort to grab third from an impossible position. She's flying.
EAGLE FARM
Race 2 - Delphi (fifth). In a slowly run mile, this galloper was not suited being a St Leger Trial winner over 2800m the last time we saw him. Now in the care of Sam and Anthony Freedman, he should be given a tick, although not quite racing up to the $5 market expectation, we know now that the mile is short of his best and he is going to need at least a fast run 2000m to be competitive. His Irish form is too hard to ignore.
Race 9 - Brooklyn Hustle (first). Yes, it's a little obvious finding a winner to follow, but heading towards the Group One Tatts Tiara, this is the mare I want to be with over Tofane. They have finally figured out what she needs, and that is clear air after a string of luckless runs at the highest level trying to pick her way through fields. Craig Williams brought her right to the outside of all runners and although only hitting full stride with a furlong left to run, she showed great fight to find the line.
MORPHETTVILLE PARKS

Race 1 - Taunting (second). This colt was a heavily supported favourite ahead of this debut and while he couldn't reward that move, he hasn't lost any fans on this performance. A victim of a wide gate, Taunting almost exactly where you didn't want to be on this program, back, wide and chasing from the outset. Sound effort and he likely starts short again at start two.
Race 7 - Greetings Ned (first). Making it win number five for the program was Jamie Opperman aboard this six-year-old, who produced the win of the day considering how this circuit was playing. A midweek winner in Melbourne back in 2019, he's been teasing since then, but is talented and is more than capable of winning at a higher grade than this, especially now the confidence is up.
RANDWICK
Race 2 - Riverstock (fifth). Over further, you could also follow Sizzling Cat going forward but given this mare was only first-up, she's the one with upside going into this winter period. A lightly raced five-year-old who defeated a handy country galloper in Power Me Up to break the Maiden only last spring, she was the strongest through the line in the Highway after only balancing up at the 150m.
Race 4 - Ulysses (third). Always pegged as a galloper that prefers firmer footing (which is likely still the case) is this gelding that was excellent on resumption despite being completely unsuited. Rattling off easily the fastest closing sectionals of this event, Ulysses was forced to settle further back over 1200m from the wide alley before launching late. This was a great return and he'll get over further.
Race 5 - Le Chevalee (third). While she could just be a little too short next time out, this mare was comfortably the best thing beaten on this entire Randwick program. Third-up here off a long spell and running into a handy one prior to this in Melbourne, she was firstly kept in a pocket by Zing before attempting inside runs, with all momentum lost at that key stage. Ready to win.
SANDOWN
Race 5 - Bedford (second). Although it was disappointing for many punters that he did not get there on the line, he was right back in a fast run race on a day where it was near impossible to make up substantial amounts of ground. Bedford handles wet ground which is important to note heading into next start, but more importantly he was one of very few horses to actually make up any ground here.
Race 7 - Seb Song (fourth). He did not get clear room to build the revs until the 300m and was well back in the field, putting pay to his chances in another won by the leader. Seb Song was much better this time with sting out of the ground after disappointing market expectations last start on firm ground. Next start, we want to be seeing him between the mile and 2000m, where he'll go close on a fairer circuit.