2022 T20 World Cup Winner Betting Odds - Who will clinch the biggest prize in T20 cricket?
The T20 World Cup will start on October 16th, 2022
Australia are the defending champions
Who will lift the T20 World Cup trophy?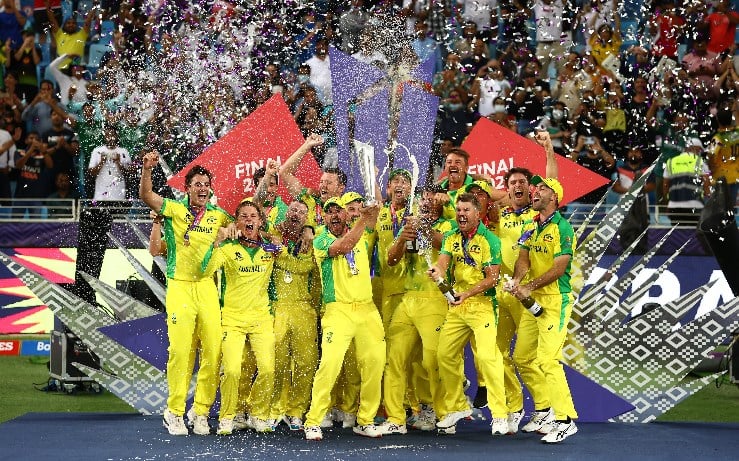 Australia clinched the 2021 T20 Cricket World Cup and will be looking to defend their crown in 2022. (Photo by Francois Nel/Getty Images)
The 2022 T20 World Cup is edging closer and closer, and with it will come explosive hitting, cartwheeling stumps and pieces of individual brilliance.

As with any major tournament in the shorter formats of the game, the advantage still seems to be with the batsmen, with big hitters taking advantage of the fielding restrictions and what feel like smaller boundaries.
Last time out, it was Australia that lifted the T20 World Cup, and the holders will now host the competition that spans from October 16th - November 13th. The competition will consist of a round-robin stage that will then transition into a knockout format.
The current groups see Afghanistan, Australia, England, New Zealand and two other sides that are to be decided in Group 1, while Bangladesh, India, Pakistan, South Africa and two sides to be confirmed make up Group 2.
Despite the competition taking place in Australia, it is India that are the current favourites to go all the way and lift the trophy. The side are $3.75 with Bet Victor to win the World Cup.
Right behind them are Australia ($4.33), England ($5.00) and New Zealand ($7.50). There is good value in backing any of the three chasing sides, with Australia the current holders and hosts, England the reigning-ODI world champions and New Zealand beaten finalists in the last World Cup.
Offering good value in the betting are the West Indies ($13.00). The side recently defeated England 3-2 in a thrilling 5-match series, and they look good value right now.
However, many will feel that the Aussies are the side to back as they still offer good value and they provide an aggressive fast bowling option that will thrive on the pitches they grew up on.
Of course, it is never a good idea to write off India and England, especially if they can keep their key players fit, with good value on a glut of the best teams in the world right now.
With such a quick turnaround between the next and the previous World Cup, with only a year between the two, most sides will come into this one with similar squads to the 2021 iteration of the tournament. This means that if there was a particular squad you think looked good at the 2021 World Cup, then they may be worth backing.
2022 T20 World Cup Winner Betting Odds
| T20 World Cup Winner | Odds |
| --- | --- |
| India | $3.75 |
| Australia | $4.33 |
| England | $5.00 |
| New Zealand | $7.50 |
| Pakistan | $8.00 |
| South Africa | $11.00 |
| West Indies | $13.00 |
Odds from Bet365. Correct on 07/03/2022