Jordan Silk's Ridiculous Outfield Effort - Silk's unbelievable fielding saves certain six
With the Hurricanes dominating the Sixers bowling Silk saved a certain six
It would have been one of the best catches the BBL has ever seen
The Sixers lost to the Hurricanes by 16 runs in game one of BBL10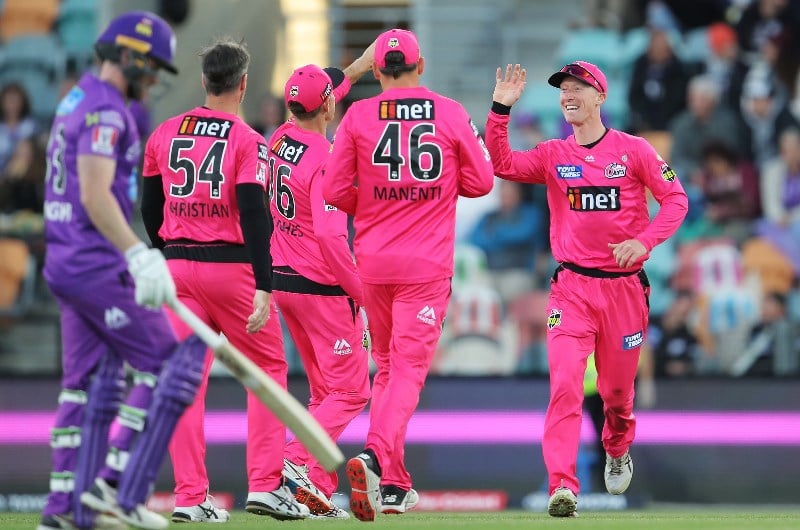 Jordan Silk of the Sixers celebrates with team mates after taking a catch to dismiss Macalister Wright of the Hurricanes during the Big Bash League match between the Hobart Hurricanes and Sydney Sixers at Blundstone Arena (Getty Images)
Although the first game of BBL10 was taken out by the Hobart Hurricanes, Sydney Sixers fielder Jordan Silk stole the headlines with a crazy piece of outfield fielding.
As the Hurricanes began to build momentum from their shaky early start, international signing Colin Ingram began to unleash on the Sixers bowling in the middle stage of the game.
At 4/113 in the 15th over, Ingram smashed a short pitched delivery by Steven O'Keefe to the mid-wicket boundary, sailing over the boundary for what looked a certain six.
Well known throughout Australian cricket for his fielding prowess, a fully outstretched Silk caught the ball over the boundary as he dived over the line, throwing the ball back into the field of play before making contact with the ground.
Saving a certain four runs as the batsmen only managing to run two, the fielding effort by Silk is one of the best plays the BBL has seen for a long time.