Paul Gallen vs Justis Huni Tips - Huni monster too much for brave Gallen
Paul Gallen vs Justis Huni predictions for June 16 fight
Gallen is Australia's no.1 box office draw
Huni going for gold at Tokyo Olympics
Stats, preview, predictions and fighter news
(Getty Images)
Paul Gallen vs Justis Huni Tips
Australian heavyweight champion Justis Huni will face unbeaten box-office sensation Paul Gallen in what is set to be a major PPV fight in Australia on Wednesday, June 16. Huni is one of the brightest prospects in world boxing, and among the favorites to win a gold medal at super-heavyweight in the upcoming Tokyo Olympics. Gallen is a highly decorated Australian rugby league legend for both club and country who has switched to boxing and become a huge crossover star.
Australia has produced many great fighters, and in the modern era standouts include Lionel Rose, Jeff Fenech, Kostya Tszyu and Anthony Mundine. Mundine also initially found fame and fortune playing rugby league in Australia's NRL but made the transition to boxing while still in his mid-20s. Gallen has instead played rugby until his 2019 retirement aged 37 before making the switch to full-time boxer.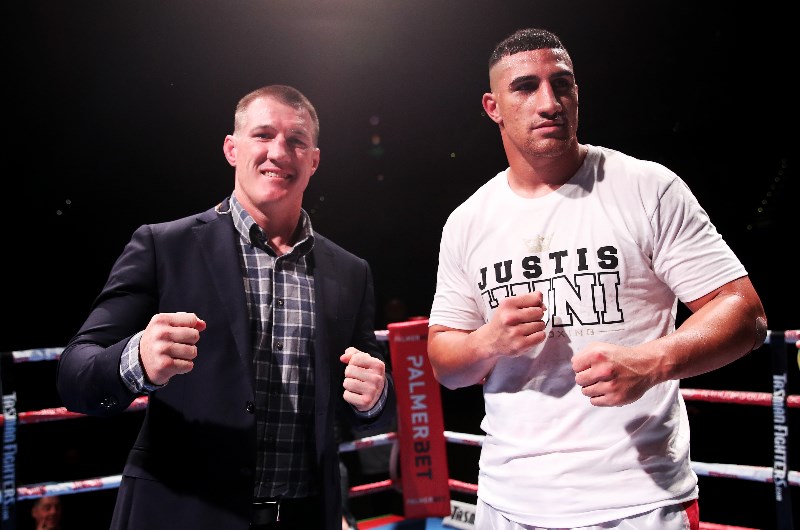 Already extremely famous in Australia, the fact that Gallen's fights are exciting and that he keeps winning them has only increased his fame. The reality that the majority of his opponents have been other non-boxers doesn't seem to matter to his viewership, and thanks to his PPV figures, Gallen is the highest paid fighter in Australia today.
However, in Justis Huni he is facing the genuine article – a supremely talented young heavyweight who would likely beat many of the world's top-20 today. What sets Huni apart from his contemporaries is his overall speed and footwork. Huni has the hand-speed of a lightweight, and his combination punches are a blur. His footwork is also that of a fighter half his size, and he uses it to glide smoothly in and out of punching range.
Much as I'm a big fan of Paul Gallen, I'm genuinely high on Justis Huni, and I think the two of them are going to put on a great show on June 16. Unfortunately, it's likely to be somewhat one-sided, and I see Huni winning convincingly, either by mid-to-late round stoppage, or at the worst a wide points' decision.
Gallen ranked 2 in Australia (boxrec)
Gallen is 11-0-1 as a pro
Huni ranked 4 in Australia
Huni 4-0 as a pro
Paul Gallen Form
39-year old Paul Gallen (11-0-1, 6 KO's) spent his entire rugby playing career at the Cronulla Sharks, becoming their highest paid player ever. A lifelong boxing fan, Gallen had his first pro fight in 2014, and from then until he retired from playing professional rugby league in 2019, Gallen restricted his fights to the NRL's off season. The fight with Justis Huni later this month will be his fifth in less than two years. Gallen and Huni have actually signed to fight twice, with the second bout to take place after Huni has returned from the Tokyo Olympics.
At 5'11" and scaling 225 lbs, Gallen probably looks like Rocky Marciano would, had "The Brockton Blockbuster" been boxing today. At times, Gallen's aggression and intensity reminds this writer of Marciano, and he is remarkably well drilled for someone who has been until recently a part-time fighter. After defeating a string of journeymen boxers and ex-rugby league players, Gallen took a step up in class in his last fight when he faced former WBA title holder and fellow Aussie Lucas Browne.
The 6'5" Browne had lost only twice previously, and even at 42 was a clear bookies favorite. Gallen showed scant regard for the neither the bookies nor Browne, getting inside Browne's reach and dropping his rival twice with heavy hooks, and demolishing him in less than two minutes of the first round.
Justis Huni Form
22-year old Justis Huni (4-0, 3 KO's) stands 6'4" and scales 235-240 lbs, and while not the biggest heavyweight on the planet, he might just be the largest to ever move like he does. Simply put, Huni has the fastest hands this writer has seen on a heavyweight since a young Mike Tyson. His footwork is also exceptional, and while Huni's not a dancer, his ability to glide around the ring is reminiscent of a young Cassius Clay.
Huni clearly has the talent, now it's down to him to prove he can take that talent and do something exceptional with it. He has certainly looked great in his four fights so far, especially in his debut: Huni won the Australian heavyweight title in his pro debut in 2020, stopping Faiga Opelu - who was 26 and 13-1-1 at the time – in seven rounds.
In his most recent bout in May this year, Huni won a ten round decision over Cameroon-born Christian Ndzie Tsoye. At times Huni looked to have Tsoye on the brink of a knockout, but under the instruction of his father/trainer Rocky, Huni backed off to get the ten rounds under his belt.
Check back with us closer to the fight for more betting options
Paul Gallen vs Justis Huni FAQ
When is the Paul Gallen vs Justis Huni fight taking place?
Paul Gallen vs Justis Huni takes place at 10:00 PM (AEDT) on Wednesday, June 16
Where is the Paul Gallen vs Justis Huni fight taking place?
Paul Gallen vs Justis Huni takes place at the ICC Exhibition Centre in Sydney
Verdict
Paul Gallen will bring a level of intensity, aggression and pressure to this fight that Justis Huni hasn't yet faced as a pro. However, Gallen has just one gear, and Huni will be well versed in how to avoid and neutralize Gallen's attacks while countering with his own shots.

While Huni has the reach and jab to keep this fight at long range and win a comfortable decision, he loves throwing fast combinations of hooks to the head and body, and may wish to make a statement by taking the fight straight to Gallen.

Either way, I'm backing Justis Huni to win this fight impressively. Paul Gallen will not have experienced anything like Huni's speed, and he will be unable to stop all of the hail of punches heading his way. Gallen will be dangerous for the first three rounds, but by the fifth Huni will be in total control, and will take Gallen out in the seventh.
Best Bet:
Justis Huni
Winner
@-833.33
at
BetMGM
- 1 Unit
Paul Gallen v Justis Huni