Floyd Mayweather vs Logan Paul Tips - YouTuber Paul set to surprise ageing Mayweather
Floyd Mayweather vs Logan Paul predictions for their exhibition fight
Mayweather's first fight since 2018
Both fighters expected to earn over $10 million
Stats, preview, predictions and fighter news
(Getty Images)
Floyd Mayweather vs Logan Paul Tips
Former five-weight world champion Floyd Mayweather returns the ring to fight YouTuber Logan Paul on June 6 at the Hard Rock Stadium in Miami, Florida. At the time of writing, this contest is scheduled for eight three-minute rounds, although that may change.

As the sport of boxing has moved on and thrived since his retirement, and with new stars like Saul "Canelo" Alvarez and Britain's heavyweight duo of Anthony Joshua and Tyson Fury grabbing the spotlight, the ageing Mayweather has found it very hard no longer being the center of attention.
Now in his mid-40s, Mayweather initially retired from boxing in 2015, but returned to the ring in 2017 to fight MMA star Conor McGregor, and in 2018 fought an exhibition against Japanese kickboxer Tenshin Nasukawa.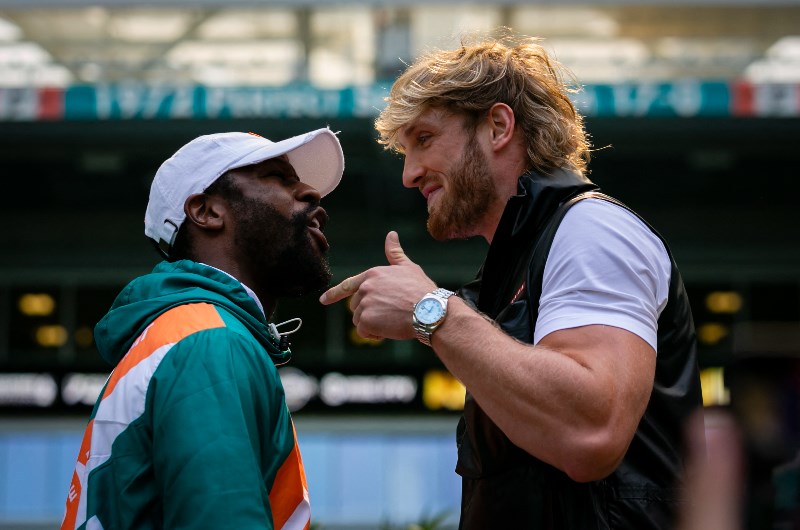 Unlike most other high profile sports stars who retire with portfolios of extremely lucrative long-term endorsement deals, Floyd Mayweather's convictions for domestic violence and spousal abuse mean he has no such endorsement deals, and instead needs to take part in exhibitions like this one with Logan Paul to earn a few million. Aware that taking part in another legitimate boxing match against one of the world's premier fighters would likely jeopardize his carefully constructed 50-0 record, Mayweather now looks for safe opponents he can "box" in exhibition fights.
Logan Paul has become a big name on social media and particularly YouTube, where he has more than 20 million subscribers to his channel. Such is Paul's vast following, he is able to earn millions from AdSense and other forms of advertising. Paul is a big boxing fan, and has fulfilled a dream of competing in the ring with two highly publicised white collar bouts against fellow YouTuber KSI.
Regardless of the result, I'm backing the much younger, much bigger and far stronger Logan Paul to put up an excellent showing in this exhibition. I'm backing Paul to either last the distance and only lose via a close, possibly controversial decision, or to pull off a major upset.
Mayweather is 50-0 (27 KO's) as a pro
Mayweather is a 5-weight world champion
Paul is 0-1-1 as a fighter
Paul has over 22 million YouTube subscribers
Floyd Mayweather Form
44-year old Floyd Mayweather (50-0, 27 KO's) has held versions of the world title at super featherweight, lightweight, light welterweight, welterweight and light middleweight. While his record reads like a "Who's Who" of modern boxing, unfortunately Mayweather chose to meet every great fighter he fought when they were either shop-worn (Judah, Cotto, Pacquiao, De La Hoya), past their prime (Mosley), or in the case of Canelo Alvarez, still green. There were also those fighters like Kostya Tszyu, Paul Williams and especially Antonio Margarito that he chose to avoid.
Mayweather's 50-0 record is also debatable, as he could easily have been declared the loser in his bouts with Castillo (first fight), De La Hoya and Maidana (first fight). These are the opinions of this writer plus many boxing fans, and the point is there is a lot of hype surrounding Mayweather and his record.
Let's face facts – Mayweather is small, no more than 5'7" and around 150 lbs in between fights. He is old for a fighter at 44, and he is a light puncher, with no genuine stoppage win since Ricky Hatton in 2007. In his last contest – the exhibition vs Tenshin Nasukawa – in 2018, he took on a 5'4" 120 lb 20-year old kickboxing star making his boxing debut. While Nasukawa assumed it was a friendly exhibition, Mayweather went after the kid unlike he ever went after his ring rivals, flooring Nasukawa three times for a 1st round stoppage.
Mayweather needs to stay close to Paul, making him miss and hitting him with timed counters. He should prevent Paul getting into any rhythm, and prevent him gaining in confidence.
26-year old Logan Paul (0-1) is 6'2", 200 lbs, and has engaged in just two boxing contests, the first was an amateur "white-collar" fight, the second a legitimate licensed boxing match. Both fights were against the same opponent, fellow YouTuber KSI of the UK. The first fight in 2018 took place in Manchester, England and was ruled a draw. The second in 2019 at the Staples Center in LA was judged a split decision in KSI's favour. Paul was deducted two points by the referee for manhandling KSI to the floor, and that deduction effectively cost him the fight.
However, on both occasions Paul appeared to have by far the better boxing skills and technique, but was met head-on by KSI's aggressive, swarming, brawling tactics. In the build-up to the Mayweather Paul fight the two agreed to do a press conference in Miami, which saw a confrontation occur with Mayweather and Jake Paul – Logan's brother. At one point, Jake grabbed Mayweather's baseball cap from his head, saying "gotcha hat!" which resulted in a mass brawl involving Mayweather's army of minders, with Mayweather himself displaying the uglier side of his personality.
In order to beat Mayweather, Paul needs to hold the center of the ring and pump out his long left jab constantly. Off that he should throw plenty of straight rights, uppercuts, and hooks to the head and body. He needs to march forward and rough Mayweather up whenever he can.
Floyd Mayweather vs Logan Paul FAQ
When is the Floyd Mayweather vs Logan Paul match taking place?
Floyd Mayweather vs Logan Paul takes place at 11:00 PM (AEDT) on Sunday, June 6
How can I watch Floyd Mayweather vs Logan Paul?
Floyd Mayweather vs Logan Paul will be shown like on Sky Australia & Sky UK
Verdict
While it is the easiest thing in the world to predict a Mayweather victory in this fight, for arguments sake I'm going to put five-bucks on Paul to pull off the upset.

Why? Because Paul has been training hard for a year for this fight, has youth and size on his side, and people forget Mayweather looked terrible in his last boxing match, his 2017 fight against Conor McGregor. In that fight he was forced to become the aggressor because his counterpunching skills had vanished.

History is littered with far greater fighters than Mayweather who went to the well once too often and lost to far lesser opponents, prime examples being Mike Tyson when he lost to Kevin McBride, and Muhammad Ali losing to Trevor Berbick.
Faced with a large, fit, aggressive young man who's trying to tear his head off, Mayweather might discover when he pulls the trigger, there's a delayed reaction on his shots. So as a longshot bet I'm backing Paul to force Mayweather to quit on his stool after five rounds.
Best Bet:
Paul
Winner
@700.00
at
BetMGM
- 1 Unit
Floyd Mayweather v Logan Paul