Betfair Bets - Matched & Unmatched
What is the process with Matched & Unmatched bets?
Betfair - Matched & Unmatched Bets
As an Exchange, for a bet to be struck there must be someone else prepared to take the opposing side of the bet. Essentially, both sides have taken each other on.
You can get an indication of how much you can wager at a particular price in the market view.
As seen below, the cash number below the odds is the amount that is waiting to be matched by the other side, which is essentially an offer a person (or persons) has placed in the queue.
The queue, where bets are waiting to be matched may also be referred to as market depth or volume.
As a result, there are three things that can happen in terms of Matching when having a bet on the Exchange:
1 - Matched Bets
When a bet is matched, it simply means two people have agreed on a stake and amount of liability.
For example: you BACK Golden bank to win at odds of $8.20 for a stake of $5. It is matched when someone is prepared to LAY Mrs Zeltfire at odds of $8.20 for a $5 Backers Stake.
A punter is backing Golden Bank to win $36 and the layer (bookie) is risking $36 to win $5. Your bet is now officially matched as the below screen shot demonstrates.

If using mobile sites, if your bet is matched a message will appear after you confirm your bet.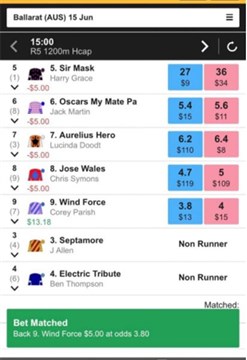 2 - Unmatched Bets
Sometimes, you can't get the total amount on at the odds that you want.
The market may have changed (e.g what was once odds of $7.60 has been taken and is now $7.40). Or you have entered odds that are above (for a BACK bet) or below (for a LAY bet) what others are prepared to bet against (e.g. you want odds of $7.60 and the market is at $7.40).
You have four options:
Change your odds to meet the market.
Keep the bet and see if the odds get matched before the event starts or in-play.
On selected markets, choose to take the Betfair SP when the market turns in-play.
Cancel the bet.
On the desktop site if your bet is unmatched, your bet slip will turn red, and a message will appear providing you with options for the unmatched bet.
If Betfair SP is not available on the market you are betting on, the Take SP option will not be available.

If on the Mobile site, the following message will appear: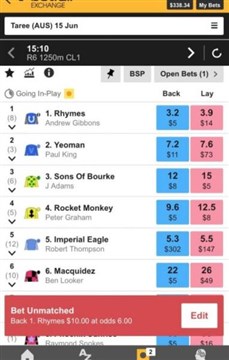 Once you hit Edit, your bet will show underneath your selection in the market.
All unmatched bets placed prior to the event are cancelled when the event turns in-play, unless Take SP (on selected markets) or Keep Bets is selected. You can update this by doing the following:
DESKTOP
Click in the circle for the option you want to take, and hit the yellow "Update" button. Please see below for an example on how to keep when the race turns in-play.

You can change the status of the bet at any stage by clicking the "My Bets" button.
MOBILE
Hit the Drop Down menu as shown below. Once you have selected your option, click on the yellow "Update" button.
You can change the status of your bet prior to the start of the event by simply clicking on the the my bets icon which will appear at the top right of your screen.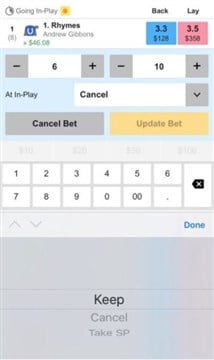 3 - Partially Matched Bets
A 'partially matched' bet means that you have been able to get some of your stake (or liability) matched, but part of it hasn't been.
For example:
you have tried to BACK
Queensland in the State of Origin for $100 at odds of $2. You see the message in your Bet Slip that only part of your bet has been matched, say $50.
This means you have $50 that you haven't actually wagered yet (it is unmatched) because there isn't a person (or persons) prepared to take the opposing view at those odds at that point in time.
WHEN THIS HAPPENS YOU HAVE THREE OPTIONS PRIOR TO THE MARKET TURNING IN-PLAY:
Wait and see if you get matched at that price.
Change the odds to meet the market and see if they get matched.
On selected markets, choose to take the Betfair SP when the market turns in-play.
Important: Your bet could be matched a split-second after the unmatched bet slip has been shown as above.
Just because it hasn't been matched instantly does not mean it can't still be matched.
Unmatched bets stay in the market as offers until you decide to cancel them.
It is much safer to amend the odds of your unmatched bet than placing multiple bets at different odds to get matched.
Be aware that the Betfair Market screen will normally refresh every 30 seconds but the Betfair server can process hundreds of bets per second.
In a busy market, prices and volumes will change constantly – don't assume that the prices only change when you see them on screen.
To view the latest prices make sure you are logged in first and then click on the refresh button just above the market.
Betfair Exchange
How does the Betfair Exchange work?
The Betfair Exchange profits through charging commissions rather than by including a profit margin like a regular bookmaker does.

A betting exchange provides members with opportunity to bet against each other rather than a bookmaker and Betfair take their clip only off winning punters.

Betting exchanges allow users the flexibility to find odds and markets they want rather than risking a bookmaker who can dictate the stake and price for a selection.
Bet £50

Cash back if you lose

Place 5 x £10 Sportsbook bets on Football of min odds of 2.0 (Evs) and get money back as cash if any lose. Maximum refund per qualifying bet is £10, x5 refunds available. Payment restrictions apply. T&Cs apply.