Phoenix Suns @ LA Clippers Live Stream & Tips - Clippers win takes WC Finals to deciding game
Phoenix Suns @ LA Clippers predictions for Thursday's Western Conference Finals game
Game no.5 of Western Conference Finals
Suns lead Clippers 3-2
Stats, preview, predictions and player news
(Getty Images)
Phoenix Suns @ LA Clippers Live Stream & Tips
The Phoenix Suns will play the LA Clippers in game no.5 of the Western Conference Finals on Thursday, July 1. Phoenix had led this series 2-0 and appeared to be cruising to a second straight whitewash victory, having beaten Denver 4-0 in the WC semis. However, the Clippers have now won two of the last three games.
Nevertheless, with the score now 3-2 in the favor of Phoenix in this best-of-seven series, the Clippers cannot lose another game. One more defeat and their season is over, while the Suns go forward to contest the NBA Championship Final. LA must focus 100% on the fact that they have beaten Phoenix twice in the last three matches, and Monday's 116-102 victory was by an impressive 14-point margin.
As for Phoenix, they cannot let the fact that they are just one game away from victory and a place in the finals lead to complacency. A factor in their favor is the increasing return to form of their leading points' scorer Devin Booker who has recovered remarkably well after suffering a broken nose in game no.2.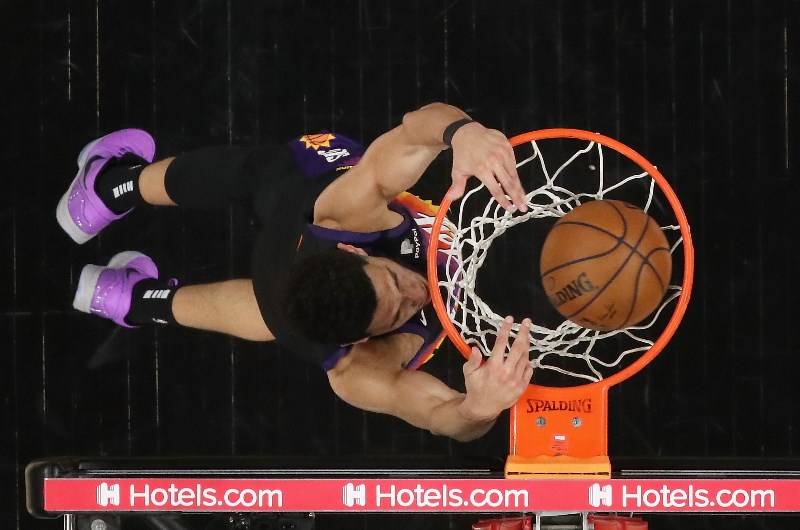 The Clippers have their own points-scoring machine in Paul George, who has really stepped up after losing his team mate and LA's leading points scorer Kawhi Leonard to a knee injury during their semifinal victory over the Utah Jazz. George has been the Clippers' top scorer throughout the WC Finals, and he hit 41 points during his team's 116-102 victory over Phoenix on Tuesday.
In fact, because of Paul George's ever-improving form, I'm backing the LA Clippers to win again on Thursday, defeating the Phoenix Suns by a margin of at least ten points to level the WC Conference Finals at 3-3.
Suns finished 2nd in Western Conference
Suns went 51-21 this season
Clippers finished 4th in Western Conference
Clippers went 47-25 this season
Head to Head
The LA Clippers and the Phoenix Suns have played each other a total of 227 times in NBA regular season matches, with Phoenix currently leading their head-to-head by 133 wins to 94. Over this season plus the two previous, these two teams have played each other 11 times, with LA leading 8-3. The Clippers and the Suns met three times during the 2021 regular season, with LA finishing 2-1 up.
The Phoenix Suns' leading points' scorer Devin Booker continues to recover from the broken nose he suffered during his team's 104-103 win over the LA Clippers last Wednesday. Despite wearing a protective face mask, the injury severely hampered Booker during game no.3 which the Clippers won 106-92, Phoenix's first defeat in nine games.
Booker's recovery will take time, and it's clear he is massively important to his team. His form or lack of it could literally be the difference between the Phoenix Suns winning this year's NBA Championship, or them crashing and burning against a resurgent LA Clippers.
Have the LA Clippers left their trademarked playoff comeback from a 0-2 deficit too late this time? On Tuesday LA repelled the Phoenix Suns with an impressive 116-102 win which gave them a stay of execution – or playoff elimination – at least until Thursday. However, now they have to do it all again.
The Clippers have twice come from behind to win during these playoffs, but to do so from this far back against a team as accomplished as Phoenix is a tall order. However, if we analyze it purely as a game on its own, the Clippers go into it in great shape, having won two out of the last three, and with power forward Paul George on fire.
Phoenix Suns @ LA Clippers FAQ
When is the Phoenix Suns @ LA Clippers match taking place?
Phoenix Suns @ LA Clippers takes place at 1:00 PM (AEDT) on Thursday, July 1
Where can I watch a Phoenix Suns @ LA Clippers live stream?
Our live streaming calendar shows you where you can watch a Phoenix Suns @ LA Clippers live stream
Verdict
I'm backing the LA Clippers to defeat the Phoenix Suns on Thursday to square the series at 3-3 and take the Western Conference Finals down to the wire. Early during the regular season when Phoenix first hit form, I predicted they would go all the way this year.

However right now they are a team relying too much on the form of one player – Devin Booker, who is struggling with an injury – and that over reliance may well cost them this series.

I'm backing the Clippers to continue their resurgence with another convincing win by at least ten points in a matchup that will feature around 220 points.
Phoenix Suns @ LA Clippers