LA Clippers @ Phoenix Suns Live Stream & Tips - Suns to take 2-0 lead over Clippers in WC Finals
LA Clippers @ Phoenix Suns predictions for Thursday's NBA match
2nd Conference Finals game between Clippers & Suns
Suns lead Clippers 1-0 in series
Stats, preview, predictions and player news
(Getty Images)
LA Clippers @ Phoenix Suns Live Stream & Tips
The LA Clippers take on the Phoenix Suns in Game 2 of their Western Conference Final on Wednesday, June 23. Phoenix won the opening game between these two teams on Sunday 120-114 to take a 1-0 lead in this best-of-seven game series.
In the Western Conference Semifinals, the Clippers pulled off a huge upset when they came back from two games down to defeat top seeds and many people's favorites to win the 2021 NBA Championship the Utah Jazz 4-2. It was the second time in these playoffs that LA had recovered from a 0-2 deficit, having also lost the first two matches in the opening round against the Dallas Mavericks.
While the Clippers have had to display their fighting qualities in these playoffs, the Phoenix Suns have thus far dominated their opponents. Phoenix are 9-2 during these playoffs, and have won their last eight matches consecutively.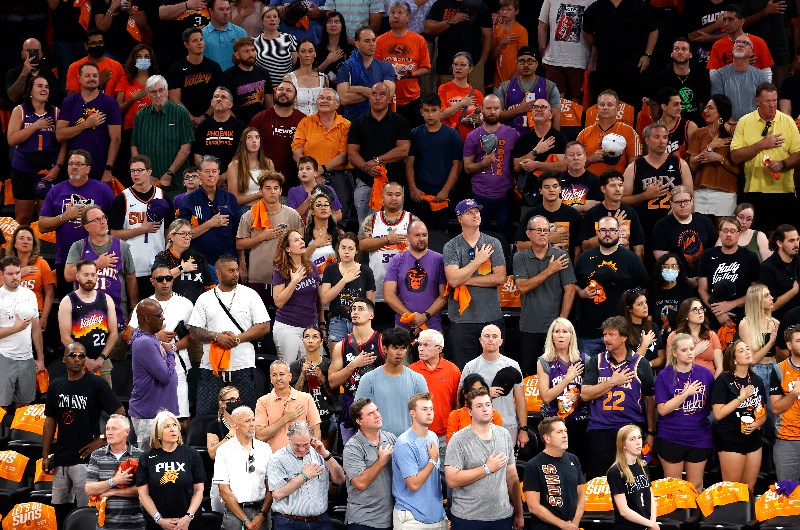 That run includes winning three straight games to wrap up their first-round series win over the Lakers 4-2, whitewashing the Denver Nuggets 4-0 in the Western Conference semis, and then winning their WC Finals opener against the Clippers on Sunday. The winner of this series will go through to the NBA Championship Finals and take on the winner of the Eastern Conference Finals between the Milwaukee Bucks and the Atlanta Hawks.
I'm backing the Phoenix Suns to take a 2-0 lead on Wednesday with another hard-fought win over the LA Clippers, once again winning by ten points or less.
Clippers finished 4th in Western Conference
Clippers went 47-25 this season
Suns finished 2nd in Western Conference
Suns went 51-21 this season
The on NBA regular season matches the LA Clippers and the Phoenix Suns have played each other a total of 227 times, with Phoenix currently leading their head-to-head by 133 wins to 94. Over this season plus the two previous, these two teams have played each other 11 times, with LA leading 8-3. The Clippers and the Suns met three times during the 2021 regular season, with LA finishing 2-1 up.
The LA Clippers are proving to be the gutsiest team in these playoffs, twice coming from 0-2 down to eliminate first the Dallas Mavericks, and then in the Western Conference Semifinals, the mighty Utah Jazz. What's more, the Clippers didn't just squeak by the Jazz, they won convincingly 4-2.
Key to the Clippers two comebacks has been twin offensive threat provided by leading points' scorer Kawhi Leonard with a 30-points-per-game average, and LA's no.2 hitman Paul George, with a 26-point average. All but one of their four wins over Utah were by a margin greater than 10 points, including a 136-106 crushing that turned their series on its head.
From early on in the regular season, their writer picked the Phoenix Suns to go all the way in 2021 and win their first ever NBA Championship. Back then the odds on them doing just that were long, but not anymore. Phoenix are now second favorites to take the Larry O'Brien NBA Championship Trophy behind the Milwaukee Bucks at 6/4.
During these playoffs the Phoenix Suns have compiled a 9-2 record so far, the best of any of the four teams, What's more, Phoenix have now won eight-straight matches, six of them by margins of more than ten points. Sunday's Western Conference Final opener against the LA Clippers was however a hard-fought affair which Phoenix edged by just six points 120-114.
LA Clippers @ Phoenix Suns FAQ
When is the LA Clippers @ Phoenix Suns match taking place?
LA Clippers @ Phoenix Suns takes place at 1:00 PM (AEDT) on Wednesday, June 23
Where can I watch a LA Clippers @ Phoenix Suns live stream?
Our live streaming calendar shows you where you can watch a LA Clippers @ Phoenix Suns live stream
Verdict
The LA Clippers might need to bounce back from a two-match deficit for a third straight series, because I'm backing the Phoenix Suns to defeat them on Wednesday to take a 2-0 lead in this series.

While the Clippers possess the twin points-scoring threat of Kawhi Leonard and Paul George, Phoenix have the sensational 24-year old Devin Booker as their chief hitman, and Booker scored 40 points in Sunday's win over LA. I'm predicting the Suns will win this game by 10 points or less in a matchup that will feature around 220 points.
LA Clippers @ Phoenix Suns