Houston Astros @ Oakland Athletics Live Stream & Tips - Astros to edge Athletics and top AL West Division
Houston Astros @ Oakland Athletics predictions for Wednesday's MLB game
8th meeting of the season between Houston & Oakland
Houston lead Oakland 5-2
Stats, preview, predictions and player news
(Getty Images)
Houston Astros @ Oakland Athletics Live Stream & Tips
The Houston Astros take on the Oakland Athletics in an MLB regular-season game on Wednesday, May 19. Both Houston and Oakland compete in the American League West Division, where the Athletics are currently top and the Astros second. This will be the first of a three match series between these teams.
This will be the third series played out between Houston and Oakland this season; back in April they faced each other in the 2021 season opener, which was won by the Astros 8-1. Houston would go on to clinch that series 4-0, but would lose their subsequent series against Oakland 2-1 a week later.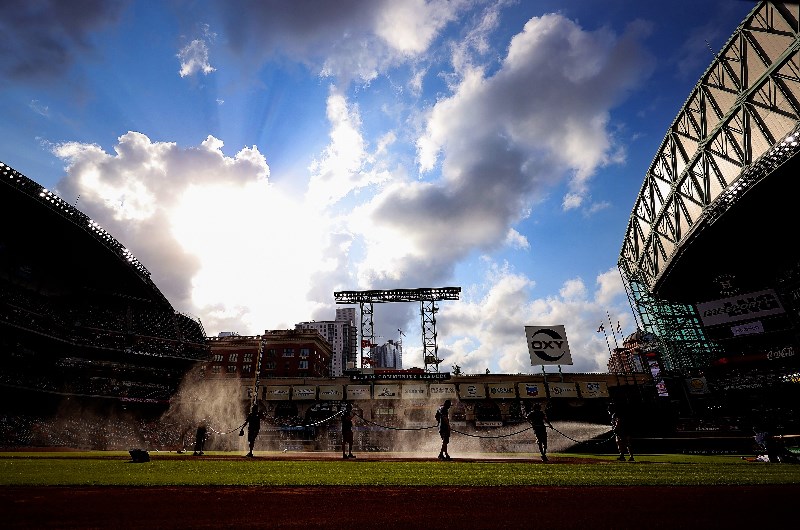 Overall, division leaders Oakland have a record of 25-17, with Houston close behind on 24-17. The West Division is rounded out by the third-placed Seattle Mariners followed by the Los Angeles Angels and the Texas Rangers. Interestingly, the way the West Division currently stands is exactly how the teams stood when the 2019-20 regular season finished.
I'm backing the Houston Astros to defeat the Oakland Athletics on Wednesday in a match featuring around 10 runs. To find out why, read on.
Athletics top of AL West Division
Athletics 25-17 season
Astros 2nd in AL West Division
Astros 24-17 this season
Head to Head
The Houston Astros and the Oakland Athletics have played each other 36 times over the past three seasons, with Houston leading their head-to-head by 19 wins to 17. They have already played each other seven times this season, with Houston 5-2 up. The Astros and the Athletics met 10 times during the shortened 2020 season, with Oakland finishing 7-3 up. The previous season in 2019, Houston and Oakland faced each other 19 times, with the Astros edging it 11-8.
Houston Astros Form
The Houston Astros were World Series winners in 2017, and American League Pennant winners in 2017 and 2019. They have contested the American League championship game for the past four seasons, from 2017-2020. Clearly the Astros are a team of exceptional pedigree, and are already showing signs that this could be yet another successful season.
Houston began their 2021 campaign impressively, winning six of their first seven games included a 4-0 whitewash of the Oakland Athletics in their opening series. There then followed a sequence of six consecutive losses that included series defeats to Oakland and Detroit. More setbacks followed with series losses to Seattle and Colorado, before Houston finally ended that sequence with a 3-1 series win over the Los Angeles Angels.
Series wins over Seattle, Tampa Bay, Toronto, Los Angeles (again) followed, and most recently the Astros thrashed the Texas Rangers by four wins to zero. Houston have won their last six matches, and are 8-2 in their last 10.
Oakland Athletics Form
The Oakland Athletics are one of the legendary teams of Major League Baseball. Their haul of nine World Series championships is bettered only by the St. Louis Cardinals with 11 and the New York Yankees with 27. The Athletics are also long-lived, winning their first World Series in 1910, with their most recent in 1989. Oakland have also won 17 West Division titles, and also earned wildcard berth's to the playoffs on four occasions, most recently in 2019.
Oakland are the reigning American League West Division champions, and are currently in pole-position retain their title. Their record of 25-17 for a 0.595 win percentage is only bettered by the Chicago White Sox with a 24-15 record, and the San Francisco Giants, currently 24-16. Since losing their opening two series' against Houston and the LA Dodgers, Oakland have defeated or tied with every team they have faced, barring Baltimore.
Most recently, Oakland followed up a 2-1 series win over the Boston Red Sox with a 2-1 series victory over the Minnesota Twins, winning the final game on Sunday 7-6.
Houston Astros @ Oakland Athletics FAQ
When is the Houston Astros @ Oakland Athletics match taking place?
Houston Astros @ Oakland Athletics takes place at 1:40 PM (AEDT) on Wednesday, May 19
Where can I watch a Houston Astros @ Oakland Athletics live stream?
Our live streaming calendar shows you where you can watch a Houston Astros @ Oakland Athletics live stream
Verdict
This is an exceptionally tough match to call, as both the Houston Astros and the Oakland Athletics are in excellent form and riding high in the AL West Division. Aside from one extra win for Oakland, their records are virtually identical.

However, there is one glaring difference between them, the runs differential (runs scored vs runs conceded) of Oakland is -8, while for Houston it's +56, meaning the Astros are a far stronger team defensively. Houston are also 8-2 in their last 10 matches, compared to 6-4 for Oakland.

Based off those stats, I'm backing the Houston Astros to defeat the Oakland Athletics on Wednesday in a thrilling matchup that will feature around 10 runs, with a scoreline akin to 7-3 or 8-2 in Houston's favor.
Best Bet:
Houston
Winner
@-109.89
at
BetMGM
- 1 Unit
Houston Astros @ Oakland Athletics